---
There aren't many cities as reflective of America as Jacksonville. According to a new WalletHub study, the River City ranks 5th among Metro Areas That Resemble the U.S., based on ethnic makeup, as well as educational and housing characteristics. Combine that with the fact that the nation's oldest settlement is practically in our backyard, and it's no wonder the First Coast is over the top when it comes to celebrating July 4th.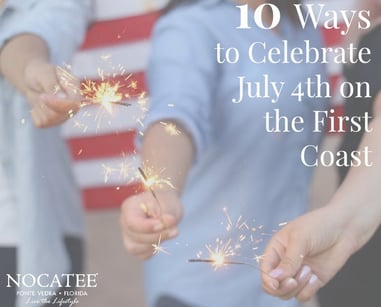 From the beaches and the St. Johns River to dry land, there are several venues for enjoying grilled burgers, good company, and most importantly—fireworks. Here are 10 fun ways to celebrate America's birthday, broken down by area of town:
St. Augustine
1.) Fireworks Over the Mantanzas - one of the largest fireworks shows on the East Coast, this year is sure to be a crowdpleaser—the company in charge of the fireworks has experience in delighting guests at Disney World and SeaWorld.
The event kicks off at 6:00pm with a free concert at the Plaza de la Constitucion by The All Star Orchestra. Guests are encouraged to bring chairs and secure a spot near the Bridge of Lions (which will be closed to boat and vehicle traffic from 8:30 to 10:30pm).
Nocatee
2.) Splash Water Park - Live music, food trucks, bounce houses, oh, my! Nocatee's annual 4th of July Celebration, 11:00am- 2:00pm, is sure to be a big hit with residents of all ages. Local band "Str8UP" will perform.
Bounce houses and other activities ensure the day will be filled with sunny and shaded family fun. Sponsored by popular Nocatee builder David Weekley Homes.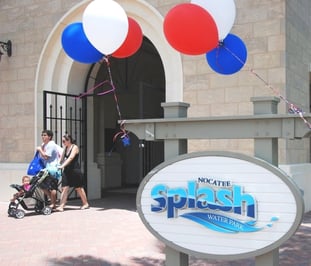 Downtown Jacksonville
3.) The Landing - Enjoy a party along the St. Johns River with live music by Paul Ivey & Souls of Joy and X Hale Band (4:00-8:00pm) till Wednesday (1:00am). Adults 21 and up can also enjoy drink specials. Be sure to camp out early to secure your spot for watching the fireworks fly. The riverfront fireworks are scheduled to begin at 9:45p.m.
4.) Jacksonville Suns Game - Just can't wait until the 4th to celebrate Independence Day? The Suns are coming in clutch with an Independence Day Celebration on Monday (game at 7:05pm) with a "Patriotic Cap Giveaway" and a large firework display after the game.
5.) Museum of Science and History (MOSH) - there's no reasons kids can't learn something while celebrating Independence Day. MOSH is offering discounted admission on July 4- $4 Fourth of July at MOSH. Stick around downtown and keep your eyes on the skies to watch fireworks along the nearby St. Johns River.
Beaches
6.) Jacksonville Beach - Grab your chairs, blankets and snacks and hit the beach to watch an amazing fireworks display over the Atlantic Ocean. The fireworks show begins at 9, so you'll want to get there early to claim your spot.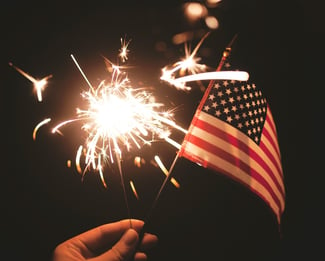 7.) Fernandina Beach - Join locals for the "Hometown All-American 4th of July Celebration." Downtown Fernandina Beach is the place to celebrate our nation's birth with a fireworks display, and festivities ranging from a most patriotic pet and Uncle Sam lookalike contests to pie eating and live music.
8.) Fernandina Beach - Amelia River Cruises' family-friendly and adult/BYOB cruises along the St. Johns River and "Fernandina's historic waterfront" will be firework cruises on Tuesday, July 4th! Cruises take off at 8 p.m. and 8:30 p.m. For more information and to purchase tickets, visit the Amelia River Cruises website.
Riverside/Avondale
9.) Orsay - Celebrate the 4th foodie style at the 8th annual 4th of July Backyard BBQ at Restaurant Orsay. This event puts a gourmet spin on classics, including popcorn with melted foie gras and truffle oil, John Boat Ale-poached hot dogs, as well as a bounce house and other activities for the kids.
10.) Riverside Arts Market (RAM) - Celebrate RAM's Downtown Fireworks Viewing Party with bands, cold local brews and dining options from popular RAM vendors. The event kicks off at 6 p.m. with music by the bands- Brent Byrd & the Suitcase Gypsies and Mama Blue. The free live music is sure to keep the party going [music ending at 9:45pm].
---
To learn more about available homes in Nocatee, stop by the Nocatee Welcome Center or explore Nocatee's Neighborhoods web-page.