Anytime Fitness is opening a new location in the Nocatee Town Center. Anytime Fitness will be located in the currently-under-construction building, owned by Skinner Bros. Realty, east of Crosswater Parkway and directly beside South Kitchen & Spirits.
---
Anytime Fitness, the world largest and fastest growing 24-hour co-ed fitness franchise, is pleased to announce it is open for fitness in the Nocatee Town Center. A grand opening celebration will take place on October 1st.
"For many people, joining a gym can be an intimidating experience" said Deanna Konowal, Anytime Fitness club owner. "Our gym is small enough that we can provide personalized attention for all of our members. Whether weight-loss is your goal, or increased strength or improved balanced and flexibility – or a combination of some of those things – at Anytime Fitness, we're able to help you achieve whatever results you seek."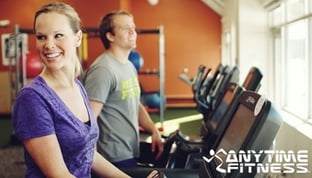 Nationwide, the average Anytime Fitness club has about 800 members. The gyms are staffed roughly 9 hours a day, but members can access the club whenever the like – even during unstaffed hours – using a computerized key-fob system.
"We make it easy for our members to exercise whenever and however they like," said Alexander Yu (Owner). "The gym will always be clean and well-maintained, featuring the best exercise equipment available. We have personal trainers available to help you learn how to use all of the equipment and to develop an individualized workout plan, if you like. We also have a 'Fitness on Request' system that allows members to choose from dozens of video classes whenever it's most convenient for them."
Membership at one Anytime Fitness club gives members access to 2,400 clubs worldwide as well as access to AnytimeHealth.com, the most comprehensive online wellness support system available.
The layout of each club is designed for quick and effective exercise. At the Anytime Fitness club in Nocatee members have full use of top-quality equipment and amenities, including: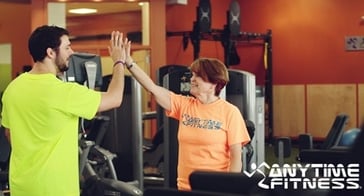 Circuit and resistance training machines
Free weights
Cardio equipment, including treadmills, elliptical machines, and stationary bikes
Group fitness classes
"Fitness on Request," kiosk-based video group fitness
Private bathrooms, changing rooms and showers
Tanning packages available
To celebrate its grand opening, Anytime Fitness at Nocatee is offering $1 Enrollment. Club tours will be available during the grand opening celebration in early October. Membership information is available at the club, by calling (904) 474-8700 or by emailing NocateeFL@AnytimeFitness.com.
---
Other opening-soon retailers include Artsy Abode, Gwen Berlin, GNC, Jersey Mike's Subs and Orangetheory Fitness. With approximately 100 families moving to the area each month, these stores are a welcome addition to the Nocatee Town Center. Nocatee is the first Electric-Vehicle Community in Northeast Florida, and boasts one of the most extensive Greenway Trails and biking systems. Residents never have to get in their car for neighborhood shopping, dining, health-care and events.
To learn more about the Nocatee community, stop by the Nocatee Welcome Center or call (904) 924-6863.