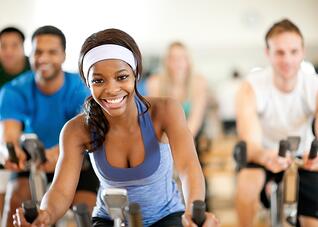 A healthy and active lifestyle is very important, and something Nocatee families can achieve right at home. Living at Nocatee means unlimited access to community nature trails, swimming pools, water parks, running/biking trails and fitness club facilities. All conducive to healthy lifestyle, those looking to exercise indoors should consider the community's Fitness Club where personal fitness and group exercise come together in Nocatee's private, 5,000 square-foot facility.
Conveniently located in the heart of Nocatee's recreation epicenter, residents have full access to Fitness Club facilities and equipment from 5:30 a.m. to 10 p.m. every day of the week. Certified Group Exercise Instructors lead a variety of weekday classes in the large Group Exercise Room. Fitness classes currently offered include Circuit, Gentle Yoga, Pilates Express, Cardio Tone & Core, Pilates and Yoga Flow, and Yoga Express.
Circuit - Upbeat class that will strengthen tone and condition all major muscle groups. The concept of this class is to interval train at different stations, while alternating between high intensity and strength exercises. This class is great for those who are new to exercise, have limitations, and/or are returning to exercise after a considerable amount of time. This class is also be modified for those with higher fitness levels by using heavier weights and faster movements.
Gentle Yoga - Explores a combination of Yoga postures, breathing and meditation to help achieve unity of mind, body and spirit. This class moves at a slower pace emphasizing stretching, balance and flexibility. Gentle Yoga is for participants new to Yoga or returning to physical activity who want a less strenuous class.
Pilates Express – For those seeking to increase strength, flexibility and control of the body. It builds strength, teaches body awareness, good posture with easy, graceful movements.
Cardio Tone & Core - This class targets all major muscle groups while using dumbbells and body weight exercises. It is low impact that includes lots of reps and lifting.
Pilates and Yoga Flow - Intermediate Yoga class that focuses on a continuous flow of Yoga postures. Synchronizing the breath with movement to cultivate balance, flexibility, strength and endurance is the main goal.
Yoga Express - A 30 minute class that uses a continuous flow of Yoga postures designed to take the kinks and stress out of your day and leave you feeling energized.
From low impact Gentle Yoga to high impact Boot Camp, there is a wide variety of classes that can be modified to accommodate a variety of fitness levels. Residents can purchase Fitness Cards that provide up to 12 group exercise classes for only $40. Individualized personal training sessions with our Group Exercise Instructors are also available.
For more information on how families are active at Nocatee, stop by the Nocatee Welcome Center or call 1-800-NOCATEE.