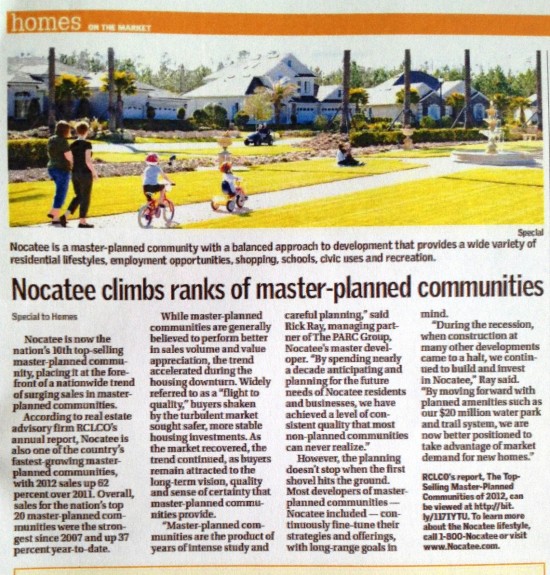 The Florida Times-Union, Feb. 2, 2013
Nocatee Climbs Ranks of Master-Planned Communities
Nocatee is now the nation's 10th top-selling master-planned community, placing it at the forefront of a nationwide trend of surging sales in master-planned communities.
According to real estate advisory firm RCLCO's annual report, Nocatee is also one of the country's fastest-growing master-planned communities, with 2012 sales up 62 percent over 2011. Overall, sales for the nation's top-20 master-planned communities were the strongest since 2007 and up 37 percent year to date.
While master-planned communities are generally believed to perform better in sales volume and value appreciation, the trend accelerated during the housing downturn. Widely referred to as a "flight to quality," buyers shaken by the turbulent market sought safer, more stable housing investments. As the market recovered the trend continued, as buyers remain attracted to the long-term vision, quality and sense of certainty that master-planned communities provide.

"Master-planned communities are the product of result of years of intense study and careful planning," said Rick Ray, Managing Partner of The PARC Group, Nocatee's master developer. "By spending nearly a decade anticipating and planning for the future needs of Nocatee residents and businesses, we have achieved a level of consistent quality that most non-planned communities can ever realize."
However, the planning doesn't stop when the first shovel hits the ground. Most developers of master-planned communities—Nocatee included—continuously fine-tune their strategies and offerings, with long-range goals in mind.
"During the recession, when construction at many other developments came to a halt, we continued to build and invest in Nocatee," Ray said. "By moving forward with planned amenities such as our $20 million water park and trail system, we are now better positioned to take advantage of market demand for new homes."

RCLCO's report, "The Top-Selling Master-Planned Communities of 2012," can be viewed here: http://www.rclco.com/generalpdf/general_Jan102013445_January_10,_2013_-_RCLCO_2012_Top-Selling_MPCs.pdf