---
The decision to live a healthy and active lifestyle is one of the reasons many families decide to call Nocatee home.
At Nocatee there is ample green space and opportunities to be physically fit, both indoors and outdoors. This fall, Nocatee expanded its offerings by welcoming Orange Theory Fitness and Anytime Fitness to the Nocatee Town Center.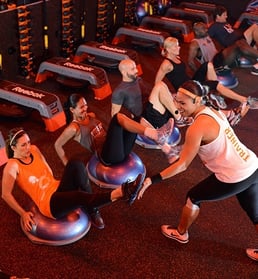 Orange Theory Fitness
The new Orange Theory Fitness at Nocatee location is a stunning space that offers a one-of-a-kind, group personal training workout that can burn 500-1000 calories. The result is more energy, visible toning, and extra calorie burn for up to 36 hours, post workout. According to the OTF website, their Heart Rate Based Interval Training "burns more calories post workout than a traditional exercise." Orange Theory is set apart from other group exercise experiences because each participant wears a heart-rate monitor. Throughout the duration of the workout, participants are encourage to keep their heart-rate in the "target range," which they can monitor on multiple television screens throughout the gym. The OTF website sums this up by saying "our scientifically-designed workout uses heart-rate technology to track your progress in real time."
At the end of each workout, your results are emailed to you and include how many calories you burned as well as how long your heart-rate was in the "target range." Orange Theory encourages everyone to come to one of their locations and try their workout by offering a Free 1-Hour Workout. "Whether you're new to fitness or a professional athlete, you set your own pace," reads the OTF website. To learn more, stop by for a guided tour or check out Nocatee's Town Center Business Directory for contact information.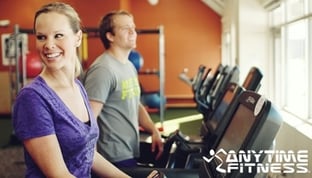 Anytime Fitness
The new Anytime Fitness at Nocatee offers a gym opportunity that makes it easy for members to exercise whenever and however they like. The gym is open 24 hours and is staffed roughly 9 hours a day. Members are able to access the facility whenever they like by using a computerized key-fob system. Regardless if you are new to the fitness world or a seasoned veteran, Anytime Fitness will provide the support you need and want. The Anytime Fitness website explains "every member gets a free, personalized Get Started Plan when they join." The Anytime Fitness location at Nocatee offers individual fitness assessments, personal training, small group training, virtual coaching and many more specialized services to help you achieve your fitness goals. Anytime Fitness provides a Free 7-Day Pass for anyone that would like to take some time to get to know the facility. To enjoy a virtual tour of this new location, CLICK HERE. To learn more, stop by for a guided tour or check out Nocatee's Town Center Business Directory for contact information.
Families in any Nocatee neighborhood are only minutes away from accessing a variety of fitness opportunities. Some of the most popular fitness amenities include the Nocatee Swim Club, the scenic Greenway Trails, the Nocatee Fitness Center, Nocatee Preserve, Kayak & Paddle Sports Launch and the Nocatee Community Park. For Nocatee's furriest residents, there are also several well-equipped dog parks throughout the community.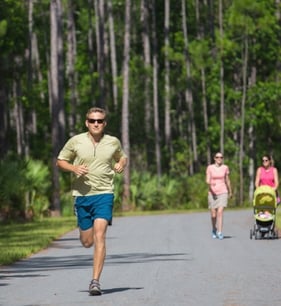 To download a map of the extensive network of Greenway Trails that many fitness enthusiasts and runners love, click HERE. There are two, five, or six-mile trail options indicated on the color-coded map.
Whether residents want to join a new fitness franchise at Nocatee or simply take advantage of the community's existing amenities and ample green-space, Nocatee makes it easy for residents to get active and live a healthy lifestyle.