Aisulu Ispayeva and Aigul Jumasheva are two students from Kazakhstan that were given the once in a lifetime opportunity to come to America, and their unofficial cultural exchange program is making headlines.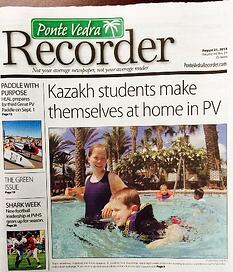 Not only did their time as camp counselors at Nocatee's popular summer camp sessions allow them to earn money and better their English language skills, but it also impacted and touched the lives of many Northeast Florida residents and Nocatee campers. This year, campers were both residents and non-residents who enjoyed "Sports Camp," "Performing Arts Camp," "Crafts & Nature Camp" and "Water Works Camp" sessions at the community.
To learn more about these girls' once in a lifetime experience, and how The PARC Group and Nocatee were able to play a part in their story, check out full "Nocatee Builds Bridge from Florida to Kazakhstan" article in the Ponte Vedra Recorder.