Planet Swim's dream of building a brand-new, state-of-the-art Aquatics Center in St. Johns County will become a reality by the end of 2017. Thanks to the passion, belief and persistence of Founder, Gus Calado, and strong support from the Planet Swim community, businesses, friends, and family, the time has come!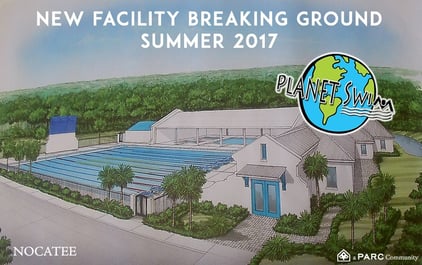 Planet Swim's new Aquatics Center will be located adjacent to Davis Park at Nocatee, north of Ponte Vedra High School. The Aquatic Center will include training facilities that are unmatched in the area. It will offer an advanced and ultra-modern training and competitive environment for athletes with a passion for elite competitive swimming as well as for beginners hoping to learn from some of Florida's best swimming instructors and coaches. It will also be home to the first Myrtha Pool in the area. Currently, the team has the most state recognized swimmers in the program's history.
In addition to their competitive program, Planet Swim has become the region's 'learn-to-swim' industry leader. This popular program offers individual and group lessons year round for those parents looking for basic survival swimming skills and for those looking to refine their swimming stroke technique.
Calado and his management team, including his fiancée, 2012 Olympian Katarina Filova are excited about the future of creating a world-class training facility in Northeast Florida. Katarina stated, "I've been swimming competitively for 15 years and have trained in some of the best facilities around the world. I am overjoyed with our plans to build an aquatics center in Nocatee that will provide our current and future swimmers with an exceptional facility to enable them to achieve their dreams."
For more information regarding Planet Swim's programs and membership, please email info@planetswim.org or call (904) 285-7545.
---
To learn more about the master-planned community, explore Nocatee.com, visit the Nocatee Welcome Center or call (904) 924-6863.