---
This week, the best golfers in the world will make their annual pilgrimage to Ponte Vedra Beach, Florida, as the annual THE PLAYERS Championship gets underway at TPC Sawgrass.

Photo credit: Wheretowatchthegame.com
Each year, approximately 150,000 golf enthusiasts attend some portion of the weeklong Players Championship, where world renowned golfers such as Tiger Woods, Adam Scott, Matt Kuchar and Webb Simpson vie for the biggest purse in professional golf: $10.5 million in total winnings, with almost $1.9 million going to the winner. So prestigious has THE PLAYERS Championship become, in fact, that the PGA Tour – whose national headquarters is located at TPC Sawgrass – considers the tournament to be "the 5th major," ranking alongside The Masters, the U.S. Open, the British Open and the PGA Championship.
A golfer's paradise
But there's more to golf in Ponte Vedra than THE PLAYERS Championship. While the annual tournament commands worldwide attention each May, golf is a year-round activity in Ponte Vedra.It is home to more than 150 professional-caliber holes of golf that are available to all local residents. The area's numerous resorts and country clubs offer both tourists and permanent residents a wide array of golfing choices.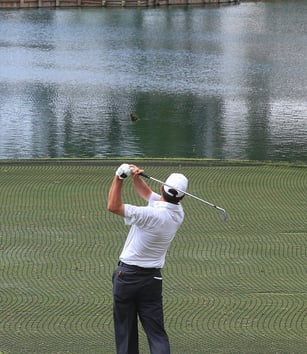 Just minutes away in nearby St. Augustine, meanwhile, is the World Golf Hall of Fame, where the sport's aficionados can view exhibits that chronicle both the history of golf and the greats of the game.
A golf lifestyle
While many people think the terms "golf community" and "master-planned community" are synonymous, not all master-planned communities feature golf courses. The reason? Simple, industry observers say: Not even the most devoted golfer may wish to live right on a golf course, where stray balls, passing golf carts and constant greens maintenance may mar the beautiful views.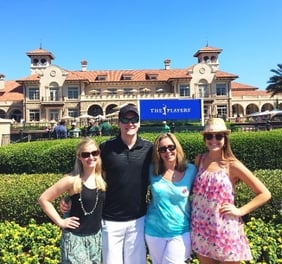 Many newer master-planned communities, in fact, have replaced golf courses with a wider range of activities the whole family can enjoy. The Ponte Vedra master-planned community of Nocatee, for example, offers residents a large splash park – featuring multiple pools, giant water slides and a lazy river – as well as a fitness center and athletic courts. The community also includes 5,000 acres of nature preserves, where residents can go hiking, cycling or kayaking from the community's kayak launch on the Intracoastal Waterway.
"Nocatee residents really enjoy the best of both worlds," says Richard Ray, president of The PARC Group, Nocatee's developer. "They can enjoy a wide range of amenities right within their own community while being just minutes away from some of the finest golf courses in the world."
---
For more information on new homes available in Nocatee, visit the Nocatee Welcome Center or call 1-800-NOCATEE.