The St. Johns County School Board officially approved a zoning plan that affects all St. Johns County students in Nocatee. The new zoning plan takes into consideration the new K-8 School in Nocatee that is currently under construction (K-8 School KK). The new school will open for the 2018-2019 school year, and is located adjacent to Nocatee's Twenty Mile neighborhoods.
"Students moving to School KK, in the northeastern part of the district, currently go to Ocean Palms Elementary, Valley Ridge Academy and Landrum Middle School. The new school will open next year as a K-6 school, then expand to K-7 the following year and be fully K-8 in year three." -- News4Jax
According to the approved plan, students living in Coastal Oaks, Kelly Pointe, Nocatee Town Center, The Palms Townhomes, Tidewater, Twenty Mile, and Willowcove will all attend the new K-8 School KK. Crosswater at Nocatee, which will consist of three new neighborhoods and is opening in early 2018, will also be zoned for the new school. Elementary and middle school students living in Austin Park and Greenleaf will stay at Valley Ridge Academy.
Nease High School will remain the high school for all St. Johns County Nocatee students.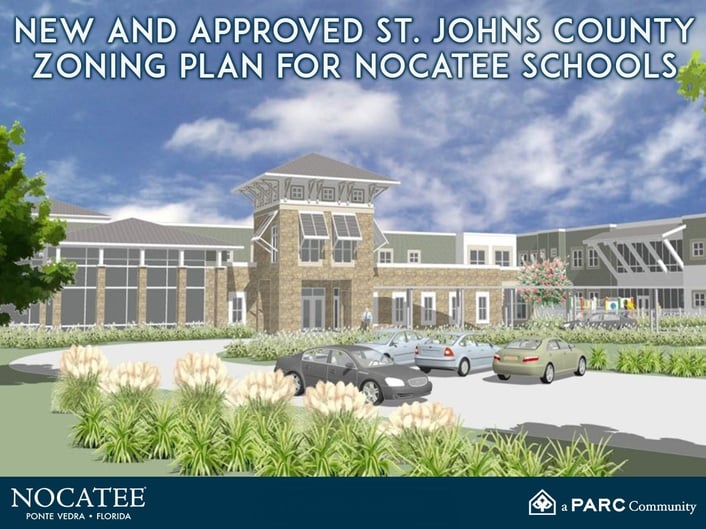 To learn more about the schools Nocatee students currently attend, explore Nocatee's Schools page.
K-8 School KK is the third school site donated by The PARC Group, Nocatee's developer, to the St. Johns County School District. Valley Ridge Academy opened its doors for the 2014-15 school year, and Ponte Vedra High School opened for the 2009-10 school year.
---
For more information on new homes available and schools Nocatee students attend, explore Nocatee.com, stop by the Nocatee Welcome Center or call 904-924-6863.