---
HOW TO BUILD A LOW-MAINTENANCE HOME
Whether you're an empty nester looking to downsize or a growing family with little time to devote to home upkeep, low-maintenance homes are increasing in popularity with good reason. When searching for a new home, buyers should look out for these features that greatly minimize upkeep.
---
INTERIOR SPACES
Dust trap-free fixtures. Dust often collects in hard-to-reach areas, which can eventually aggravate allergies and cause health issues. Look for cabinetry and built-in shelving that is flush with the ceiling to avoid dust collecting in the open space above them. Another consideration is lighting. Lampshades and hanging floor lamps are dust magnets. Consider using recessed lighting to minimize surfaces where dust and dander can collect.
Easy-to-clean bathroom fixtures. Look for open-space shower layouts that are easy to spray down. Another feature to look for is a wall-mounted toilet. This saves times spent struggling to clean the toilet base and small floor space behind it.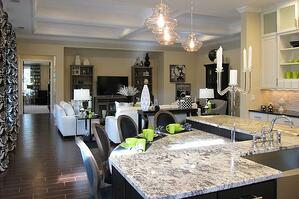 Patterned or neutral countertops. Whether it's in the bathroom or the kitchen, a black or white countertop shows all specs of dirt and must be washed constantly. Sometimes they even look dirty when they are clean. To avoid this issue, use patterns or warm solids in countertops.
Wash-friendly windows. Windows can be hard to clean, especially when you have to climb through your landscaping to access them. Look for windows that slide or tilt in for easy cleaning without having to wrestle your shrubs.
---
EXTERIOR SPACES

Minimal grass in landscape design. Rock walls, ground cover and native plants are a few ways a little landscape design can go a long way in shaving mowing time off of your schedule. Low-maintenance landscapes and native plants were favored among respondents of the 2014 Residential Landscape Architecture Trends Survey, conducted by the American Society of Landscape Architects (ASLA). Drought-tolerant plants, water-efficient irrigation systems, permeable paving and recycled materials are popular options for eco-friendly and low-maintenance landscapes.
Durable roof shingles. Choose durable, low-maintenance roofing materials.According to Builder magazine, there are several reasons metal shingles are more appealing than asphalt ones. Asphalt shingles last about 20 years and are popular and affordable. Metal shingles last 50 years or more and require very little maintenance. They also offer supreme wind-resistance, and reflect the heat from the sun, which provides greater energy efficiency.
Decks made of concrete or pavers. In some climates, pressure-treated wood just isn't enough to provide a low-maintenance deck. Often, these decks need to be sealed or stained yearly for optimal appearance. Instead, opt for concrete or stone outdoor patios. They are easier to maintain and more durable than wood materials.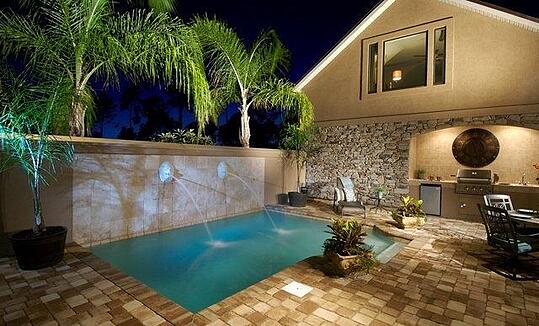 ---
For information on new homes available in Nocatee, visit the Nocatee Welcome Center or call 1-800-NOCATEE.