Florida Living | Nocatee Blog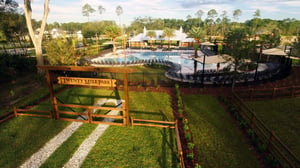 Imagine living in a community that has it all – from shopping to dining, from swimming to soccer – and never having to get in your car to access any of it. Nocatee parks and amenities, such as Twenty Mile Park and Twenty Mile Post, make it easy for residents to enjoy outdoor recreation just steps from their front doors.
Nocatee's conservation of greenspace and Northeast Florida nature is a developmental cornerstone of the master-planned community. It is also one of the many factors that combine to create a living experience unlike any other on the First Coast.
Read More
Topics: The PARC Group, Nocatee Amenities, Nocatee Parks, Nocatee Dog Parks, Nocatee History, eBook, Twenty Mile at Nocatee, Outdoor Recreation, Things to Do/See Summer 2016