---
Imagine living in a community that has it all – from shopping to dining, from swimming to soccer – and never having to get in your car to access any of it. Nocatee parks and amenities, such as Twenty Mile Park and Twenty Mile Post, make it easy for residents to enjoy outdoor recreation just steps from their front doors.
Nocatee's conservation of greenspace and Northeast Florida nature is a developmental cornerstone of the master-planned community. It is also one of the many factors that combine to create a living experience unlike any other on the First Coast.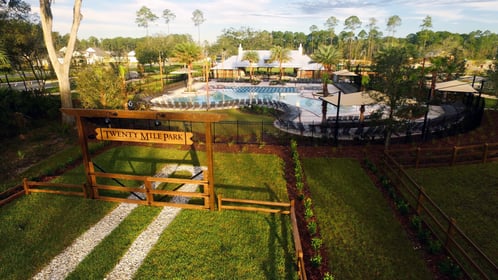 An easy way for Nocatee families to enjoy all that nature and Nocatee has to offer is by frequenting neigborhood parks! Two of the newest in Nocatee's Twenty Mile area- Twenty Mile Park and Twenty Mile Post.
Carved out of the natural environment, Twenty Mile Park is located at the front of Twenty Mile Village and includes a shallow-entry family swimming pool, Waggin' Tails dog park, athletic fields, a playground, an event lawn and open-air pavilion. Twenty Mile Park was constructed and funded by The PARC Group, Nocatee's master developer, and donated to the Tolomato Community Development District so that all Nocatee residents could enjoy the park.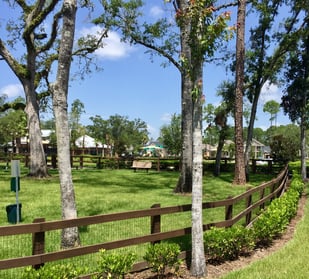 Twenty Mile Post, now open, is another new Twenty Mile themed amenity with split-railing fencing and rustic finishes. Located at the entrance of The Crossing at Twenty Mile, Twenty Mile Post is a convenient walk, bike or EV (electric-vehicle) ride away from other developing Twenty Mile neighborhoods. The new amenity features a covered pavilion and restrooms, a sports playfield, a spacious dog park, a children's playground, peaceful nature trail, and more.
Both Twenty Mile Park and Twenty Mile Post are nestled within the peaceful landscape, including sprawling oak trees, hanging Spanish moss, and historically-rich brick roadways. To learn more about the history of Twenty Mile, click here.
---
For more information on the Nocatee community, stop by the Nocatee Welcome Center, visit Nocatee.com, or call 1-800-NOCATEE.

Topics: Nocatee Communities, Nocatee Recreation, Nocatee Parks, Nocatee Dog Parks, New Amenities,Nocatee History, eBook, Twenty Mile at Nocatee