At Nocatee, there are many factors that combine to create a living experience unlike any other on the First Coast. One of Nocatee's newest and most popular collections of neighborhoods is the historically-rich Twenty Mile community. Here are 5 reasons why families already love living in Twenty Mile:
1. Old Florida Charm
The drive into Twenty Mile is simply breathtaking. Large oak trees, Spanish moss, and split-rail fencing follow you throughout your drive into the area. These unique features combine to create a charming ambiance that is felt throughout each of the Twenty Mile neighborhoods. To view all actively-selling Twenty Mile neighborhoods, click HERE.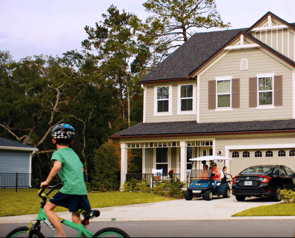 2. History
Adding to the old Florida charm is actual history. Each neighborhood entrance in Twenty Mile has been laid with bricks from nearby old County Road 210, known today as Palm Valley Road. As a means to preserve the area's history, The PARC Group, Nocatee's master developer, has incorporated the bricks into the historically-rich Twenty Mile area.
3. Twenty Mile Park and Twenty Mile Post
These stunning parks are two of Nocatee's newest amenity offerings. Carved out of the natural environment, the oak tree canopied Twenty Mile Park is a stunning and multi-purpose amenity. The park features a shallow entry pool that includes lap lanes, the Waggin' Tails dog park, a playground, and an open field with an event lawn. Twenty Mile Post features a covered pavilion with picnic tables, Central Bark Dog Park, a peaceful nature trail, a playground, and a sports activity field. To learn more about how both of these parks make it easy for residents to enjoy recreation just steps from their homes, click HERE.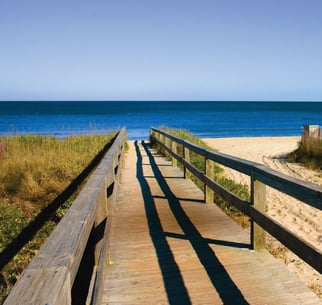 4. Easy Access to A1A and Nocatee's Town Center
Residents are just seconds away from the Nocatee Parkway that leads to A1A. Ponte Vedra Beach public beach access is only a 5 minute drive away. Another fun and nearby opportunity for water recreation- Nocatee's Intracoastal Kayak and Paddle Sports Launch. Nocatee's Town Center is also a quick ride that many residents use their EVs (electric-vehicles) to quickly get to and from the hustle and bustle of new retail and dining at Town Center. Twenty Mile residents enjoy a premier location.
5. The Views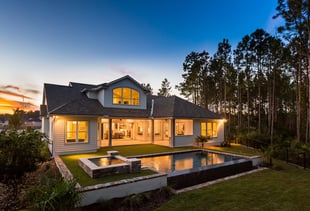 Many homesites in Twenty Mile feature stunning preserve or water views. Even better, scenic back-yard views are easy to enjoy when Nocatee builders offer home-designs that incorporate indoor-outdoor living design trends, like strategically placed windows, spacious lanais and summer kitchens. Nocatee's conservation of greenspace and Northeast Florida nature is a developmental cornerstone of the master-planned community.
Twenty Mile is one of Nocatee's most unique areas of residential new construction.
---
To learn more about new homes at Nocatee, explore the Nocatee website, stop by the Nocatee Welcome Center or call 904-924-6863.