---
Large oak trees, Spanish moss and split rail fencing, line the entrance to Twenty Mile, Nocatee's newest collection of neighborhoods.
At the entrances of all village-like Twenty Mile neighborhooods, rustic bricks are reminiscent of the history behind the Twenty Mile area, and are a true piece of Northeast Florida's past.
These Twenty Mile bricks featured at the entrance to Twenty Mile Park are from historic County Road 210, known today as Palm Valley Road. As a means to preserve the area's history, The PARC Group, Nocatee's master developer, has incorporated the bricks into Twenty Mile.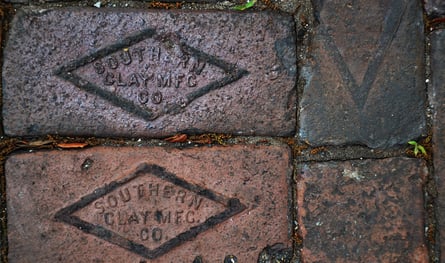 Before the Intracoastal Waterway was created in 1908, the Palm Valley area was but land and vegetation. Following the canal completion, which connected the North River and San Pablo River, brick was laid on the formerly dusty CR 210. Today, walking on the bricks one will see "Southern Clay MFC Co." Southern Clay MFC Co. was owned by the Robbins Company that was in operation in the late 1800s. The Southern Clay MFC Co. primarily operated in Florida, paving roads in the Jacksonville, St. Augustine, and Miami areas. In the 1920s, the industry began to be overtaken by paved road construction, which provided a material more resistant against the force of Florida's rare but destructive hurricanes. The Great Depression proved to be the end for the company, and the last bricks were produced in 1937.
The brick roadway eventually led way to a two-lane draw bridge in 1937 to accommodate boats passing through. During this time, one could find a gas station and general store along Palm Valley Road. Local residents may recall seeing more cows along the road than people well into the 1950s.
In the early 2000s the Florida Department of Transportation declared CR 210 a historical and archeological site. And in 2002, the brick road of CR 210 was dismantled, and the old Palm Valley Bridge was modernized to include four-lanes, which leads to Nocatee Parkway today.
Twenty Mile at Nocatee is now the new home of the preserved CR 210 bricks.
To learn more about new Nocatee neighborhoods and home builders, stop by the Nocatee Welcome Center or call 1-800-NOCATEE.