It's not every year that the oldest city in the nation celebrates such a huge milestone—a birthday that's so epic it's been 450 years in the making.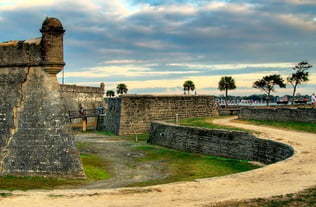 As the nation's oldest settlement, St. Augustine has played a huge role in Florida history, having exchanged hands numerous times before officially becoming part of the United States in 1822.
St. Augustine, located less than twenty-five minutes from Nocatee, is celebrating its biggest birthday with a bash that spans nearly the entire month of September, complete with concerts, fireworks and more. And most events are free, meaning you can afford to bring the whole family and invite friends, too.

Mark your calendars for some, or all of these events:
Concerts:
Friday, September 4, 2015 - Celebrate 450! Aaron Neville and Mavis Staples Concert
Join thousands of fans to listen to renowned and platinum R&B artist Aaron Neville. Mavis Staples has been inducted into the Rock and Roll Hall of Fame, so this free show is one you don't want to miss. Cost: free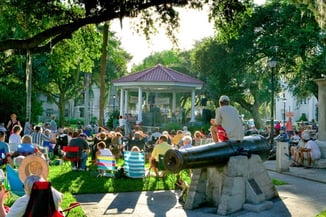 Saturday, September 5, 2015 - Celebrate 450! Emmylou Harris and Rodney Crowell Concert and Fireworks Show
There's something for everyone, with musical acts ranging from Americana, folk, rockabilly and blues. From JJ Gray and Mofro to country legends Emmylou Harris and Rodney Crowell, the entire family will find something to dance to. Sparks are sure to fly, as the night includes an epic fireworks show over the Matanzas River. Cost: free
Cake:
Monday, September 7, 2015 - Cake Cutting & Proclamation
No birthday celebration would be complete without cake. Join fellow party attendees in listening to the birthday proclamation and then get a slice of cake and listen to the bands Driftwood and Mid-Life Crisis. Cost: free
More:
Sunday, September 6, 2015 - Celebrate 450! Spanish Music and Dance Performance
Learn all about the different types of Spanish dances and enjoy the sights and sounds of the St. Augustine Orchestra, St. Augustine Community Chorus, First Coast Opera and Limelight Theatre. Cost: free
Tuesday, September 8, 2015 - Celebrate 450! Menéndez Landing Re-Enactment, Procession, & Commemorative Mass
To celebrate the day that Don Pedro landed here, there will be an authentic reenactment of his arrival, including his arrival at Mission Nombre de Dios. Bishops from around the world will hold a commemorative mass at the Cathedral Basilica and viewers can watch a large jumbotron on the west courtyard of the Basilica. Cost: free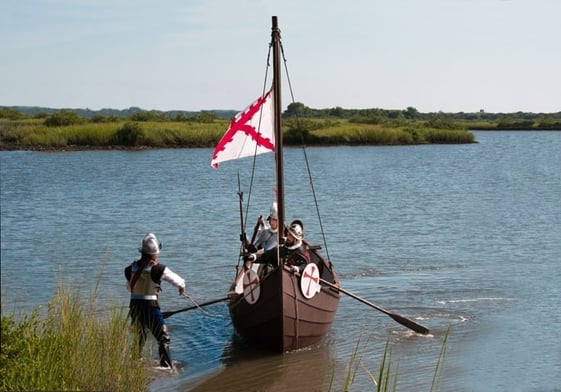 April 4 - September 20 - Tapestry: The Cultural Threads of First America
This 450th commemoration exhibition takes viewers on a journey that covers three very important cultures in the area. Discover how Hispanics, Africans and Native Americans played significant roles in not only St. Augustine's past, but also in shaping the city we know and love today. The exhibition runs from April 4 to Sept. 20 at the St. Augustine Visitor Information Center. Admission is free and guests are encouraged to pick up a Tapestry Passport and collect stamps along 35 key historic spots around St. Augustine on a self-guided walking tour.
September 3 - 23 - El Galeón
Come tour a ship 500 years in the making. El Galeón, a 170-foot wooden replica of a Spanish galleon, much like the San Pelayo, the flagship of St. Augustine founder Don Pedro Menéndez de Avilés. Tours are available September 3 through 23. Tickets are $15 for adults, $8 for kids ages 5 to 12 and free for those under 5. Discounts are available for veterans and St. Johns County residents.
September 9 - 12 - St. Augustine Spanish Wine Festival

Although this is an annual event, we have a hunch that the 450th birthday will ensure a bigger-than-ever celebration of wine and food. These events aren't free, but all proceeds go to the following local charities: Fresh Starts, Catholic Charities and TAG Children's Museum. Visit the St. Augustine Spanish Wine Festival website for event details.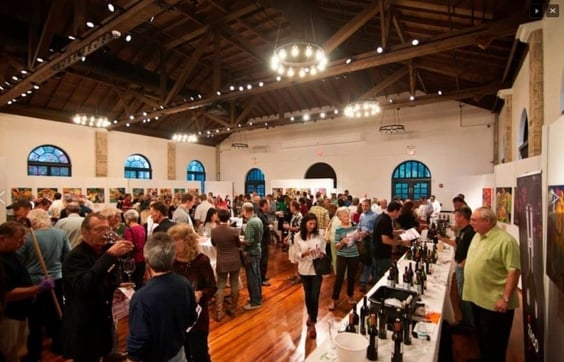 ● Wednesday, September 9 - Kick-off Luncheon - enjoy a four-course lunch prepared by students from the First Coast Technical College's Culinary Arts Program. Tickets must be purchased in advance and cost $25.
● Thursday, September 10 - Vino Veritas - Spanish food, tapas and entertainment. Need we say more? Tickets are $50 in advance and $75 at the door (space permitting).
● Friday, September 11 - Cava Reception & Dinner - a formal dinner reception featuring a five-course meal full of flavors that pay homage to St. Augustine's Spanish history. Tickets (advance sales only) are $125 per person, tables range from $1,200 to $1,500.
Saturday, September 12:
● Grand Tasting - pick and choose from 125 Spanish wines to savor along with hors d'oeuvres and take home a commemorative glass. Tickets are $50 in advance and $75 at the door (space permitting).
● Team Batalla de Vino - form a team of five (team entry fee costs $250) and prepare for the ultimate wine fight. All proceeds go to charity.
● Grand Batalla de Vino - you won't want to miss the biggest wine fight in the nation. Patrons squirt red wine onto the white shirts of thousands of friends and strangers via super-charged water guns in this fun event.
No matter how you choose to celebrate St. Augustine's birthday, you're sure to combine lots of history and even more fun.
---
To learn more about new homes in the nearby Nocatee community, visit nocatee.com or stop by the Nocatee Welcome Center.