New or established Nocatee residents, are you still searching for the perfect piece of art to satisfy an empty wall in your new home? You're in luck, because this month's Nocatee Adult Social will feature an Art Show and Auction.
From 7:00 p.m. until 9:00 p.m. on November 12th, the Art Show and Auction Social will take place in Crosswater Hall's breathtaking Nocatee Room. Come peruse a variety of one-of-a-kind pieces for sale by mixed-media artists. Art lovers might recognize some of the local artists in attendance; Matthew Winghart, Gary Mack, Dick Brown, Mobarick Abdullah, Olivia Cobb, Linda Olsen, Peggy Ingram and Ann Oliver.
There will be a variety of artwork to satisfy all tastes. Geri Price, Nocatee Welcome Center Manager, says she is "thrilled at how many artists are participating and donating beautiful artwork for the auction."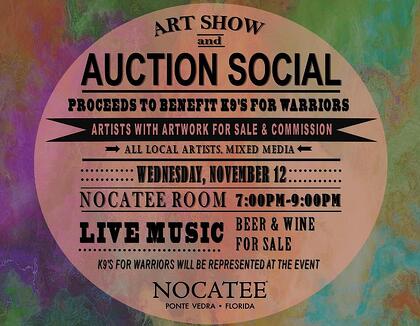 All proceeds will directly benefit K9s for Warriors, a Ponte Vedra Beach based non-profit whom will soon join the Nocatee community. K9s is dedicated to providing service canines to warriors suffering from post-traumatic-stress and or traumatic brain injury as a result of military service.
Attendees will also enjoy a musical performance by saxophonist, Pierre, who boasts twenty-plus years of experience performing alongside local and national artists. Beer and Wine will be available for purchase. Set to be a fun and unique environment to meet and mingle with the artists… you don't want to miss it! Join us November 12th to show your support for local artists and the K9s for Warriors organization.
---
To learn more about the Nocatee community and new homes available, stop by the Nocatee Welcome Center or call 1-800-NOCATEE.