---
Dana Chapman has been living in her new home for only a year, but she already has fallen in love with the Nocatee community, and the lifestyle that accompanies it.
Loving life as a Del Webb Ponte Vedra Nocatee resident, Dana enjoys attending both her active-adult community events, as well as Nocatee events - like the 2nd annual Oktoberfest event at Splash Water Park. Dana is just one of the more than 2,000 Nocatee homeowners who enjoy the sense of community that these events foster.
"The events that Nocatee plans really bring together and help form a strong social fabric that reaches all neighborhoods," remarks Dana. Even swinging by Splash Park for a quick bite from Lil' Fox Pizzeria is another way she enjoys socializing with other community members.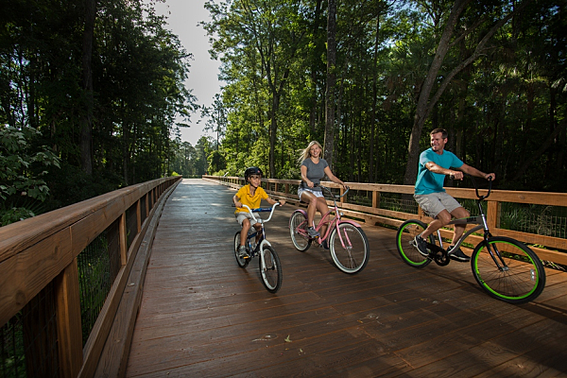 She and other outdoor enthusiasts also love the Nocatee Greenway Trails, another popular feature in the master-planned community. Dana enjoys riding her bike along the extensive network of winding nature trails and paved pathways designed for walkers, runners and bikers. Not only does Dana enjoy exercising outdoors at Nocatee, she also finds time to utilize exercise equipment inside the Nocatee Fitness Club on the weekends. "I feel so fortunate to be living in such a beautiful community where the opportunity to explore surrounding nature and recreational opportunities are endless," says Dana with a smile.
---
To learn more about the Nocatee lifestyle, contact the Nocatee Welcome Center or call 1-800-NOCATEE.