---
If the idea of keeping your car in the garage outside of commuting to work appeals to you, you aren't alone.
Walkable communities are one of the largest trends in real estate in the last decade, and for good reason. Recent studies have proven that walkable communities are better for your waistline, brain and even the local economy.
Benefits Include:
1.) Reduced diabetes risk: Canadian researchers found that residents living in a walkable community had a lower incidence of diabetes by 13 percent when compared to residents of less walkable neighborhoods.
2.) Slower cognitive decline: Walkable communities have also been proven by researchers at the University of Kansas to help slow down cognitive decline associated with aging and even Alzheimer's.
3.) Lower risk of obesity: Residents of neighborhoods with shops and services a short walk away get 70 extra minutes of physical activity per week, and are 40 percent less likely to be overweight or obese than residents of sprawling neighborhoods.
4.) Healthier local economy: According to the National Association of Realtors®, walkable residential communities also generate four times more tax revenue when compared to shopping malls and business centers, bringing more value to the area.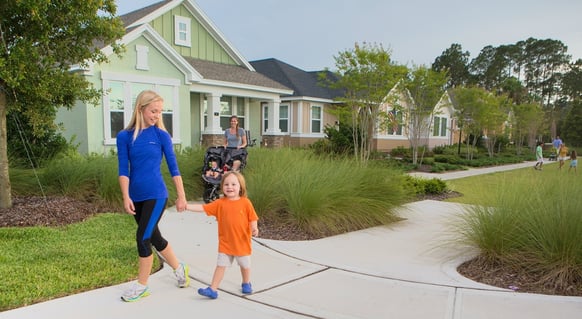 Additional benefits of master-planned walkable communities include decreased stress, less pollution and a reduction in crime.
---
Walkability isn't just about having shops, neighborhood services, restaurants and other amenities within walking distance. It's also about the quality of the experience. When evaluating communities, be sure to ask: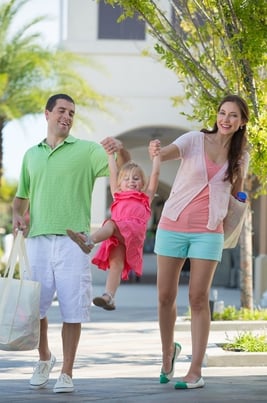 Are sidewalks wide and trail ways well lit?
Are signs prominent and visible at street level?
Are there benches and plenty of places to stop and rest along the way?
Walkability Strengthens Communities
Walkable communities create safe spaces for recreation and socialization. Maybe that's part of the reason Jacksonville was recently named one of the 30 Best Cities to Make New Friends by AARP, and St. Johns County was recently named the Healthiest County in Florida by the New York Times.
Get Walkability Without the Big City
You don't have to live in a bustling city to enjoy a walkable community. Neighborhoods near the Town Center of Nocatee offers residents everyday conveniences–even access to healthcare and banking–all just a short bike ride or walk away.
---
To learn more about affordable new homes in Nocatee, visit nocatee.com or stop by the Nocatee Welcome Center.