Whether you're an empty nester, single professional or anywhere in between, reining in your spending is a smart and attainable goal for 2016. Of course changing spending habits will require a certain level of discipline and planning.
---
For starters, you should spend a month or two tracking where your money actually goes versus where you think it does. It's recommended that no more than 28 percent of your gross monthly income go to housing and housing costs, no more than 15 percent to debt repayment, and no more than 5 percent to entertainment expenses. Once you know where your financial pitfalls are, it will be easier to cut out lattes or lavish nights out as necessary.
Here are a few additional ways you can slice your monthly expenses:
Trade your pricey gym membership for Pinterest workouts. From high-intensity workout training (HIIT) to tabata and CrossFit, there are countless workout routines and plans on Pinterest. Save between $30 and $120 per month by cranking up Pandora or Spotify and working up a sweat in your living room instead of a costly and overcrowded (at least in January) gym.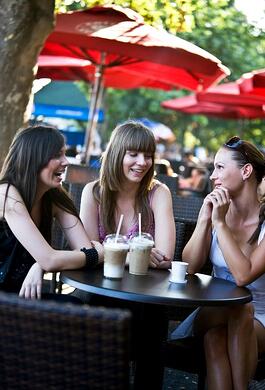 Cut the cord on cable. You've probably heard this advice for years now, but were unwilling to give up HBO's premium content, like "Game of Thrones" or "Veep." Starting in 2015, the cable provider began offering a cheaper streaming option, so you can finally kiss your cable receiver and all the costs that go along with it goodbye without feeling like you're giving up must-see-Sunday-night TV.
Move into a more affordable home. According to a survey by the Demand Institute, nearly 40 million Americans are spending more than 30 percent of their income on housing expenses, including mortgage payments and property taxes. Consider downsizing to a smaller home, or simply moving to a more affordable home in your area. If you're really serious about reducing housing costs, explore other cities that are easier on the wallet while still offering ample job opportunities in your industry.
Reevaluate your phone plan. Unlimited texts and rollover minutes are great in theory, but if you aren't going anywhere near the first or second tier usage caps on your cell phone bill, it may be time to consider dropping down to a cheaper plan.
Designate those savings. Chances are you can find at least a few hundred dollars' worth of savings each month. Decide the best way to use this new found cash, be it saving for retirement or a dream vacation, paying down debt, setting it aside for a new home down payment, or reaching some other financial goal in 2015.
---
To learn more about affordable homes in Nocatee, visit nocatee.com or call 1-800-NOCATEE.