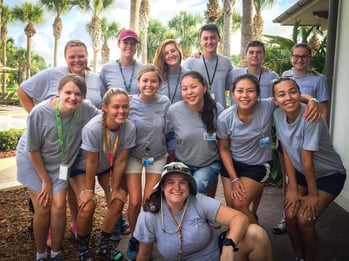 The ending of yet another school-year is quickly approaching and the kiddos will soon be free to play. Want to keep them busy and make it a summer to remember? Check out these action-packed camps and programs happening Summer 2018 within the Nocatee community!
Nocatee Summer Camps
Nocatee recently announced nine awesome camps that are sure to please kids ages 5 to 12 years. Themed-camps offered include: All-star Sports, The Great Outdoors, Under the Big Top, Under the Sea, Heroes Week, Camps Got Talent, Summer Camp Olympics, Planet Earth, and Waterworks. The fun-filled weeks will entail a variety of stimulating activities, such as LIVE performances, intense competitions, and exciting adventures.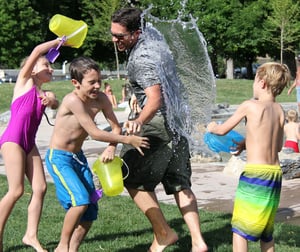 Nocatee summer camps are based out of the resort-style Splash Water Park, the perfect summer oasis for kids and grown-ups alike. The centralized location offers Nocatee parents the convenience of being close to home for pick-up and drop-off during busy summer months. Stimulating daytime camps will kick off the first week of June and run until early-August. The camps are exclusive to Nocatee residents and staffed with qualified, kid-approved counselors. Camp registration must be done online. To get your kiddos signed up, visit the official Nocatee Summer Camp Website!
Other Local Programs
A variety of local businesses will also offer fun summer activities for youngsters. Grace Conservatory at the Nocatee Town Center has opened enrollment for a variety of summer programs including "Broadway Dance and Acting Academy", featuring a reputable guest instructor with a 40-year musical theatre career. The Learning Experience, across from Valley Ridge Academy, is also offering weekly themed programs with a variety of hands-on activities for young imaginations. Summer camps at The Learning Experience are filled with interactive play including water days, obstacle course, exciting science experiments and so much more.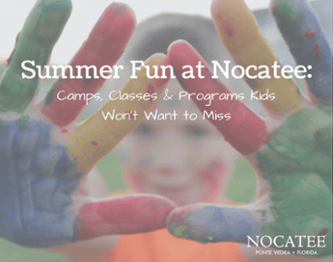 For faith-based fun, here are some local organizations offering summer-time activities. Waypoint Church is excited for a "Shipwrecked" themed 2018 VBS in June and Crosswater Community Church will be hosting a highly-anticipated "Babylon" themed VBS, alongside a Winshape Camp Week the month of July. In addition, First Baptist Church of Jacksonville South and Chets Creek Church, will have a number of enjoyable summer events planned within Nocatee. Some of these include student retreats and camps with higher age requirements for Nocatee's teen-age residents.
Submerse yourself this summer with all that Nocatee has to offer! With the absence of school routines, it's the perfect season to dive into your community and get the kid(s) involved.
Have other kids summer camps or programs (located in Northeast Florida) to add to this list? Please share below!
---
To learn more about the family-friendly Nocatee community, explore Nocatee.com, stop by the Nocatee Welcome Center or call (904) 924-6863.