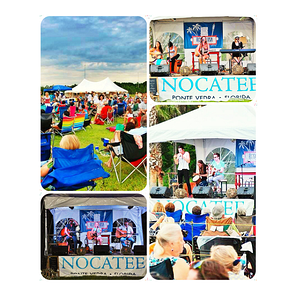 Nocatee hosted the 2nd annual Roscolusa Songwriters Festival this past weekend at the Nocatee Town Center. Over 1500 residents and community guests attended this unique Nocatee event that brought together talented Nashville musicians for a relaxing outdoor music festival. From 6 to 10 pm, guests brought lawn chairs, blankets and coolers to the event lawn to enjoy the warm summer evening free music festival with family and friends. A portion of the evening's proceeds went to the Tom Coughlin Jay Fund, a Jacksonville based non-profit which helps families tackle childhood cancer.
The evening of acoustic performances came from a variety of talented musicians, including Ponte Vedra native Kim Paige. Guests enjoyed the live concert, Jacksonville's best food trucks and a variety of local vendors booths.
Along with other local media, the Nocatee TV Station was on hand to capture footage for the community TV channel, as well as the 'NocateePonteVedra' YouTube channel.
For more information on upcoming events held at Nocatee, visit the "Events & Activities" page or call 1-800-NOCATEE.