Leading up to the Nocatee Zipline Grand-Opening on September 8th, residents took part in a Zipline Picture Contest in which they posted pictures to the "Nocatee Community" Facebook page. Lucky resident and contest participant, Konnor Matthews, was selected to be the very FIRST to experience Nocatee's newest amenity.
In an interview from September, here's what Konnor had to say about his Grand-Opening zip-lining experience...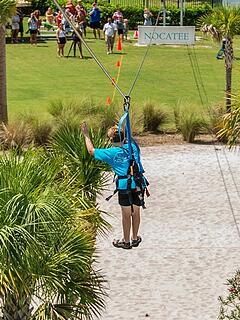 Q. Did you enjoy partaking in the Zipline Picture Contest? Did you get friends to "like" your picture/submission on the Nocatee Ponte Vedra Facebook page?
A. My mom actually entered me in the contest and yes, she got friends to "like" her picture!
Q. Were you excited to be 1st RESIDENT down? Excited to share with friends/family your experience?
A. Yes, I was excited to be the VERY FIRST! Yes, I was. My parents and brother were there to watch, and I told my friends about it.
Q. Favorite part of the riding experience – speed or height of the Zipline Tower?
A. I liked everything except the sudden stop at the end. And I wanted to do it again!
Q. What are your favorite features of Splash Water Park – Rip Tide Slide, Lazy Tides River or Sand Volleyball Courts?
A. I like it all. The Lazy Tides River is my absolute favorite though!
Q. Do you and your family (neighborhood friends) enjoy coming to Splash Water Park? What are your favorite things to do there?
A. Yes, we enjoy coming to Splash. We come at least once a week and much more in the summer. My favorite thing to do is swim in the lazy river.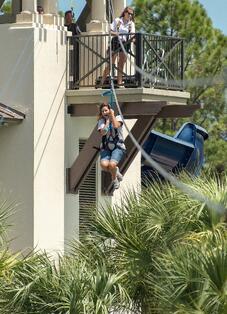 Q. Excited for the walk/short drive to Dick's Wings and Yobe Yogurt at the Nocatee Town Center after a day spent playing at Splash?
A. Yes, I can't wait to have a wing restaurant & frozen yogurt shop that close.
Q. Will you be returning to ride the Nocatee Zipline?
A. Yes, I would like to come back with my friends.
Konnor's experience was captured in the "Nocatee Zipline Grand-Opening" video. Subscribe to the NocateePonteVedra YouTube channel to view it and many other community event videos.
---
For more information on new homes available and the Nocatee lifestyle, explore www.Nocatee.com, stop by the Nocatee Welcome Center or call 1-904-924-6863.