PV Businesses Recognized with Laurel Awards
Written by The Recorder: Thursday, March 07, 2013 - 06:00
The PARC Group, Nocatee's master developer, was named Developer of the Year for the seventh straight year by the Northeast Florida Builders Association's Sales and Marketing Council.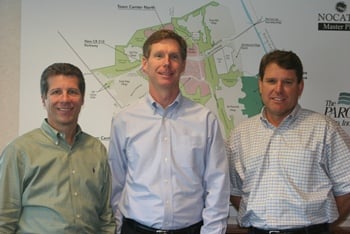 The 2013 Laurel Awards, held Feb. 22, recognized outstanding achievement in building, design and marketing in Northeast Florida's development and home building industry. The PARC Group took home the top prize for a developer once again at the annual event for Nocatee, its master-planned community that continues to break records and reach new milestones.
"We are honored to receive this recognition for six years in a row," said Rick Ray, Managing Partner of The PARC Group, Nocatee's master developer in a news release. "However, we did not accomplish this alone. We are thankful for our industry partners and builders who play a major role in Nocatee's success."
Nocatee saw several major achievements in the past year, including sales milestones, new neighborhoods, national rankings and new retailers.
"While the past year has been our strongest, the best is yet to come," Ray said.
Just a few of Nocatee's achievements over the past year include:
New-home sales exceeded 500 in 2012—a 62-percent increase over 2011, and nearly three times more than 2010. Almost 1,500 families now call Nocatee home.
Nocatee was ranked the nation's 10th top-selling master-planned community in 2012 by real estate advisory firm RCLCO. In its annual report, RCLCO also ranked Nocatee one of the country's fastest-growing masterplanned communities.
The St. Johns County District School Board approved funding for a new K-8 school in Nocatee. Construction will begin this year, with the school slated to be ready in time for the 2014-2015 school year.
Six new neighborhoods are in progress, including two neighborhoods within the Town Center with homes in walking distance to the shops and other amenities.
Another Ponte Vedra-based business, Clockwork Marketing Services, was also recognized with three top honors at the Laurel Awards. The Northeast Florida marketing firm was presented with two awards for Best Direct Mail Piece and an award for Best Print Ad. The award-winning pieces were designed on behalf of Atlantic Companies, HabiJax and Homes by Deltona.
"We are pleased to have our work recognized by the area's home building industry and are grateful to the clients who entrust their marketing objectives to us," said Maxine McBride, president of Clockwork Marketing, in a news release. "We strive to produce award-winning materials for our clients, regardless of the size or scope of the project."
For additional information on Clockwork Marketing, visit www.clockworkmarketing. com or call (904) 280-7960. For more about Nocatee, visit nocatee.com.
Provided by: Michelle Calcote King