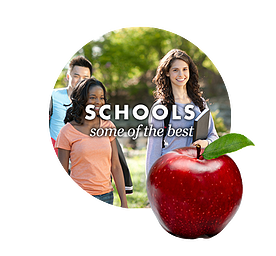 Nocatee students will say goodbye to summer swimming, zip-lining, and nature trail hiking as all St. Johns County students head back to school next week.

Action News Jax recently reported on St. Johns County Schools and how they continually rank so high, both state and nationwide. Read the news-story, "St. Johns County Schools Rated 'A' for 10th Year In A Row," to learn more about these great Nocatee area schools.
St. Johns County Schools Rated A for 10th Year in a Row
Reported by: Noël McLaren
Email: nmclaren@ActionNewsJax.com
Published: 7/26 5:41 pm; Updated: 7/26 6:24 pm
PONTE VEDRA, Fla.– When Yvonne Roberts decided to move to Florida, she picked St. John's County because she said it was a good place to send her kids to school.
"I have four children and the reason why we live here is for the school district because they had all scored well," she said.
St. Johns County schools have celebrated great scores with the state for years, landing an "A" grade for the past 10 years in a row. This year, it was one of the only local school districts that didn't see scores slump.
"They let their teachers teach. I think we have some phenomenal teachers that know what they're doing," she said.
She says it also helps that teachers at the high school don't teach to FCAT tests.
"When they took the test it was easy they're teaching them above and beyond," said Roberts.
While parents like Roberts praise teachers, the superintendent is praising parents.
"We have very supportive parents I think that's a key as well," said St.
Johns County Superintendent, Dr. Joseph Joyner. "Parents are very supportive of our school district they have high expectations for us which I accept and certainly understand and which I appreciate."
High standards that don't appear to be going anywhere any time soon.