---
For many on the First Coast, fall is a time for pumpkin-flavored everything, annual Fall Festivals, and the chance to break out cozy scarves. The change of seasons is also the opportunity for home-owners to refresh the interior and exterior space of their home.
Here are 10 easy autumn-inspired home decorating ideas from HGTV: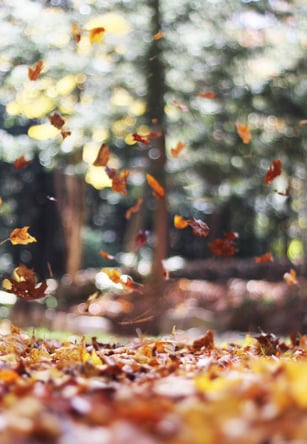 1. Faux-liage
"Add an autumnal touch to an open bookcase with silk fall leaves, which you can find at your local craft store. Whether they're pressed inside a picture frame or strategically placed along the shelves, autumn-colored leaves are sure to pump up the fall factor."

2. Paper Pretties
*Nocatee's take: cut-out pumpkins, leaves and flowers from scrapbook paper are easy additions to hang around the mantel and entryways. Textured or glossy, shades of oranges, reds, yellows and browns- whatever suits your fancy!
3. Less Is More
"Create a fresh, fall look with an orange-and-white palette. Here, white furniture and accessories, paired with a few orange accents creates a sophisticated balance." The organe and white combo will also add an element of coastal and beachy for homeowners close to the water!
4. Pedestals and Pennants
"Pumpkins on pedestals and pennant banners made from fall-themed scrapbook paper or fabric will give an open hutch a healthy hint of autumn." Other places to string a seasonal banner- above a door or on a screened back lanai.
5. White Pumpkins
"Keep it simple with a display of white, or ghost, pumpkins. For visual interest, stagger the heights by using stacks of old books or vintage scales as pedestals."
6. Painted Pumpkins
"Faux pumpkins and gourds painted in a monochromatic color scheme adds understated elegance to a mantel." *Nocatee's take: opt to DIY and let the kids help with the painting!
7. Birds of a Feather
"Pinecones, gourds, pheasant feathers and artificial owls add an organic, woodsy touch to this rustic, fall vignette." *Nocatee's take: add pinecones, other seasonal touches and tinstle to glass vases for seasonal centerpieces.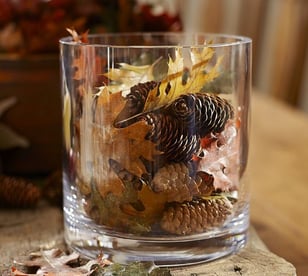 8. Mason Jar Sconces
"Create quick-and-easy wall sconces this fall with a pair a vintage jars and some twine. Suspended from cup hooks in the ceiling and filled with cinnamon sticks and LED candles, these temporary sconces add warmth."
9. Natural Elements
"Weathered wood, antlers, rope and time-worn finishes make for a beautifully rustic, fall mantel display."
10. Spooky Stuff
"Inexpensive cheese cloth, skulls, a black wreath and decorative moss create one spook-tacular display."
In addition to decorating ideas from HGTV, Nocatee's Pinterest profile is full of seasonally-inspired ideas for decor, family activities and kids crafts. Happy Autumn!
---