Recently announced the 6th Best-Selling Community in Nation, Nocatee's growth and success is largely credited to the master developer, The PARC Group. The PARC Group is led by a team of financial and development professionals with a passion for smart growth and preservation. As a part of our "Meet the Developer" Nocatee Blog Series, let's take a closer look at Roger O'Steen, The PARC Group's Chairman and CEO.
---
For over 30 years Roger O'Steen has served as the Chairman and Founder of the PARC Group. Under O'Steens leadership, the PARC Group has developed many of Northeast Florida's top communities, including the award-winning Nocatee Master-Planned Community. Some of the other premier communities that have also been developed during O'Steens time as Chairman and Founder are eTown Jacksonville, Marsh Creek Country Club, Sea Place, Timberlin Parc, Reedy Branch Plantation, Hickory Village, Pablo Bay, Pablo Creek Reserve and the Crosswater at Pablo Bay.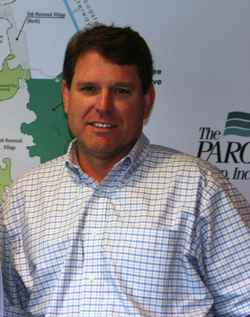 Before starting with the PARC Group, O'Steen worked in commercial real estate and condominium sales with Stokes & Company. As Senior Vice President of Condominium Development, O'Steen developed more than 20 communities in the Southeast and Texas. O'Steens division, Stokes-O'Steen Communities developed seven golf course communities, 5,000 single-family homesites, as well as condominium communities. The most prominent is the Summer Beach community, home to the Golf Club of Amelia and the Amelia Ritz Carlton Hotel.
O'Steen has been named the Northeast Florida Developer of the Year, an award won by The PARC Group for 12 consecutive years, most recently in 2018.
List of Communities (Stokes and Company, Stokes O'Steen Communities and The PARC Group):
Camachee Cove Villas

Deercreek Country Club

Golf Club of Amelia

Hickory Village

Hidden Hills Country Club (TX)

Hunter Oaks

Oceans of Amelia

Orange Park Country Club

Pablo Bay

Palm Valley Industrial Park

PARC Place

Reedy Branch Plantation

San Pablo Office Park

Sea Hawk

Sea Hawk Villas

Sea Place

Southpointe of Daytona

Spyglass

St. Augustine Ocean and Racquet Club

Sugar Mill Villas

Summer Beach

Summerhouse of Panama City

Timberlin Parc

Village Green

Wells Landing

Woodlake Villas (FL)

Woodlake Villas (SC)