Education is an important cornerstone of the Nocatee lifestyle.
Many growing families join the community because of the area's top-rated schools. With continued population growth, county lines have been crossed to offer new school districts for Nocatee families. The once St. Johns County exclusively zoned community has extended school zones to include Duval County.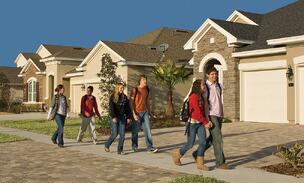 Duval County Schools include Bartram Springs, Twin Lakes Academy and Atlantic Coast- each with their individual academies and offerings. In addition to these schools, all Duval County-zoned students are eligible for a variety of highly-regarded magnet programs.
Bartram Springs Elementary is a kindergarten through fifth grade school, boasting an 'A' ranking for the 4th consecutive year. Seventy-eight percent of students perform at or above reading grade level, and eighty-six percent out-perform in math on standardized assessments and exams.
Twin Lakes Middle School boasts a diverse student body of 1,300 students, and is frequently sought after for its' centralized location in Jacksonville's Southside area.
Atlantic Coast High School, often referred to as the "school of the future," features unique architectural design and cutting-edge technology throughout the campus. The advanced technology is showcased in the school's IT Career Academy, designed to leverage students for paths in Digital Media, Web Design and Commercial Art Technology. Atlantic Coast also offers rigorous acceleration programs, including the AP/Honors Academy. Requirements include taking a minimum of nine college-level Advanced Placement classes prior to graduation.
Talk about a bright future! Nocatee residents are sure to gain a great education no matter what school zone they attend.
For more on the Nocatee schools and zoning for each neighborhood, visit the Nocatee Welcome Center or call 1-800-NOCATEE.