Because home features reflect the way people live, they are constantly changing and evolving. What was hot a few years ago may not even be on wish list for today's homebuyers. Whether building a custom home or shopping for a new one, here are some of the top features that modern homebuyers are looking for:
Open layouts - Closed-off or compartmentalized kitchens, living and family rooms aren't high on the list. Buyers prefer open-layout concepts, where kitchen and living areas are combined. Open floor plans can make spaces feel larger than they are while being more conducive to entertaining guests who frequently hang out in the kitchen.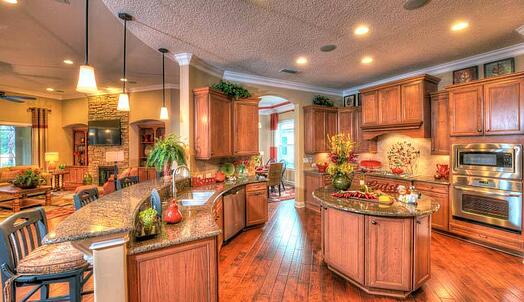 Smart use of space - No matter how large a home is, wasted space is not appealing. There are several ways to ensure your home is clean and clutter-free, even without purging your belongings. From drawers tucked away beneath stairs to built-in cabinets that house dog bowls or laundry hampers, builders are getting creative in creating hidden storage.

Greater accessibility - According to a recent study by the American Institute of Architects, 55 percent of residential architects surveyed indicated an increased demand for greater accessibility. Features like on-grade entrances and ramps, wider hallways and fewer steps ensure retirees have greater mobility inside the home and out.

Impressive outdoor spaces - In the same American Institute of Architects study, 70 percent noted an increase in requests for outdoor living spaces. From decks and patios to extensions of the interior complete with kitchens and fireplaces, outdoor entertaining is high on the priority list for today's home buyers.

Energy efficiency - From energy-efficient windows to Energy Star-rated appliances and programmable thermostats, there are several small features that add up to significant savings in energy bills. According to the National Association of Home Builders, the average homeowner spends 75 cents per square foot per year on electricity, while owners of efficient homes spend 10 cents less per square foot per year. Not only is it easier to save money with a new home, but building with energy efficient technologies gives one comfort in knowing their home will be well-equipped for years to come.
A dedicated laundry room - Many homebuyers are seeking more than just a closet in which to hide away the washer and dryer. Laundry now requires its own dedicated, first-floor laundry room, complete with sleek storage and plenty of space for folding and ironing.
Space for extended visits - More and more families are seeing the need for additional living space, whether it's to accommodate aging parents or bring kids back to the nest until the economy recovers. With more than 51 million Americans living in multigenerational households, additional living space that allows for some separation and privacy is ideal. Many homebuilders at Nocatee offer plans that include "flex space" that is designed to accommodate guests or extended family.

A home office - Gone are the days when a home office could double as a guest bedroom. With more than 13 million Americans working from home at least part-time, homebuyers need a designated space to devote to productivity.
Master-planned communities like Nocatee provide buyers a wide range of neighborhoods and a variety of builders offering homes with these features and many more.
To learn more about new homes available in Nocatee, visit the Nocatee Welcome Center or call 1-800-NOCATEE.