---
There's nothing better than a backyard BBQ. Luckily, in Florida the fun can last practically all year long. So how can you optimize your outdoor space for endless spring and summer days?
It's best to start with a solid plan. Here are some tips designed to help ensure optimum outdoor enjoyment in your backyard oasis:
1. Break Space into Designated Areas
Overall, the space should feel like one cohesive unit, but knowing which areas you'd like to include and then sketching a rough floor plan is a great place to start. Think about the types of functions you are most likely to have at your home. Will they be larger, kid-friendly events, or mostly small dinner parties under the sun (or stars)?
You'll need to plan for the following areas: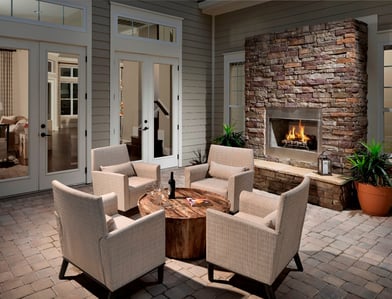 a) Cooking and Food Prep- How large should your outdoor cooking area be? Your appliances will be the determining factor here. Some rules of thumb and things to consider when mapping it all out:
Sinks- ensure breathing room by leaving 18 inches of open counter space on either side of the sink
Grills- leave at least 12 inches on one side and 24 on the other to ensure you have room for platters, tools and prep
Counter height - 36 inches is a great height for food prep and cooking or making beverages
Grill placement - the location of your grill should prevent smoke from blowing back into the house
Grill coverage- be sure the cooking area is either covered, or you have some weather protection in place for those afternoon storms (especially here in Florida!)
Gas lines- don't try to install a gas line from the house to the grill yourself—leave that work to the pros
b) Bar- If you're taking the time to craft the perfect outdoor space, don't skimp when it comes to the bar area. Some essentials include:
Mini-fridge- a built-in mini-fridge is a great way to entertain while minimizing trips inside the house for drinks and ice
High-top stools- allow guests to keep you company as they watch their specialty beverages being made (tip jar optional!)

Built-in cooler - if you don't opt for a mini-fridge, a built-in cooler is another way guests can quickly grab their own bottled and canned beverages

Barware as decor - barware on display can add some personality to the bar, just be sure your glasses are protected from the weather.
c) Seating- As you configure your space, factor in spaces for shade and sun, as not all guests will want to slather on the SPF. Some other considerations:
Existing furniture- already have patio furniture that you'd like to incorporate? Be sure to measure it and leave plenty of room (for small guests) for walking and running around it without tripping over anything
Built-in seating- consider including built-in seating as well as portable options. You could dedicate one wall to a built-in bench you can enjoy all year round
Games/entertainment- cornhole, anyone? Opt for games that don't require too much physical activity and can be enjoyed by guests of all ages. Cornhole, horseshoes and croquet don't take up a lot of yard space but can really pile on the fun
2. Start at the Ground and Work Your Way Up
Once you think through your desired entertaining areas, you'll want to lay the foundation for your outdoor flooring (at least in part of the yard). Consider durable and low-maintenance flooring for your outdoor kitchen, such as tile or pavers. These tend to last longer than wood, which can be more vulnerable to water, weather and wear and tear.
3. Consider Line of Sight/View
Step back and look at the big picture before building any sort of structures that would have an impact on the view. This isn't just about impeding the flow of conversation, it can be a safety issue as well. Make sure your outdoor grill doesn't block the view of the pool or play areas, especially if you have small children you need to keep an eye on.
4. Add a Personal Touch
From table linens and rugs to cushions and pillows, textiles are the quick and inexpensive way to add personality. The best part? They can easily be updated as seasons or styles change. If you aren't using accents that were made for outdoor use, be sure to weatherproof them with a fabric seal to prolong their life.
5. Don't Sweat It
Rome wasn't built in a day, and in all reality, your outdoor oasis probably won't be either. And that's OK. Start with a solid plan of what you really want, lay the foundation with smart flooring that can easily be expanded upon (you may want to buy extra supplies of your floor pavers or deck boards to ensure they are still available when you need them) and know you can always expand as your time and budget allow.
---
To learn about new and custom homes available in Nocatee, explore www.nocatee.com or stop by the Nocatee Welcome Center.