Pay a visit to a farmer's market and you're likely to go home with some fresh, locally grown produce to add to that week's meals.
Chances are, though, that while you're there you'll also be able to pick up some handmade soaps, custom-designed jewelry or traditional Asian vegetables, as the farmer's market of old adds new ingredients to this popular community event.
According to the U.S. Department of Agriculture, there are more than 8,000 farmer's markets in America today -- and many are finding a home in master-planned communities. Moreover, as the popularity of farmer's markets has grown, the customary collection of produce stands has expanded and evolved to include new offerings and new schedules to appeal to diverse audiences.
New Offerings
At today's farmer's markets, fresh corn and heirloom tomatoes share space with a wide range of offerings, including:
Crafts: No longer just about food, farmer's markets attract vendors and crafters who sell everything from goat's milk soaps to artwork and jewelry.
Ethnic foods: Middle Eastern, Indian, Asian and Mexican foods are becoming more popular at farmer's markets, attracting both recent immigrants and adventurous chefs craving exotic culinary options.
Special events: From kids' activities to classic car shows, farmer's markets have become highly anticipated social gatherings that combine access to fresh, locally grown produce with all-around family fun, cultivating a sense of community in the process.
Some farmer's markets are even branching out to become around-the-clock events for all seasons, with evening markets catering to after-hours cosmopolitan crowds and winter markets cropping up in even the coldest parts of the country.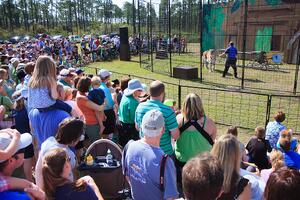 Nocatee Farmer's Market
Held on the third Saturday of each month, the Nocatee Farmer's Market has become a highly anticipated event that draws attendees from both Nocatee and the surrounding communities. Each monthly farmer's market attracts between 3,000 and 5,000 attendees, who come to purchase the wares of more than 90 farmers, crafters, artists and vendors. Attendees also enjoy a wide range of family-friendly activities, including children's games, entertainment and special events.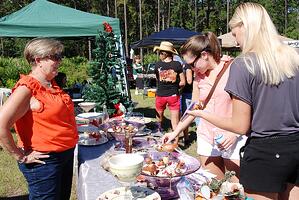 "The Nocatee Farmer's Market takes enormous pride in setting itself apart -- and it's getting bigger and better every month," Community Events Specialist Hannah Davis says. "Each month features a unique theme and event: From Jacksonville Jaguars Day and BMX-treme Day to classic car shows and magicians, these events attract a large crowd to the farmer's market, and we're excited to see it continue to grow along with Nocatee."
---
For information on the Nocatee farmer's market and other community events, visit the Nocatee Welcome Center or call 1-800-NOCATEE.