---
We still have a few months until New Year's resolutions, but trying new ways to exercise should be on everyone's list, year-round. When the treadmill gets old, you may want to venture outdoors this fall. Running outside has its perks, like providing varying terrain grades, which require different body movements. Luckily for North Floridians, temperatures in the fall rarely go below the 50s, which helps keep the muscles (and heart) warm to function at top capacity.
If your idea of working up a good sweat involves tight laces and a nice view, then you'll love these FIVE running trails around Northeast Florida:
1.) Robert W. Loftin Nature Trails at the University of North Florida, Southside Jacksonville
The Loftin Nature Trails are five miles of trails winding through UNF's college campus and natural preserves in Jacksonville's Southside area. Educational signs can be found on these trails about wildlife and plants (great for young aspiring biologists). Work in a run at this trail before a shopping spree or healthy lunch at the nearby St. Johns Town Center.

2.) Julington Durbin Creek Preserve, Mandarin
Located off of Bartram Park Blvd., this serene preserve has three trails ranging from two to six miles. Colored spray paint on the trees helps mark your way through the foliage. The dirt paths are wide and can get dusty (or muddy with our daily Florida downpours), but a little dirt never hurt anyone, right?
3.) Greenway Trails, Nocatee
As the healthiest county in Florida, St. Johns County is host to Nocatee's Greenway Trails. The extensive network of trails meander through 5,000 acres of Nocatee's village-like neighborhoods. These trail options are on Northeast Florida's first electric vehicle-approved community trails, where runners and golf carts alike can be seen sharing the wide paths. Take a breather on one of the trails' many benches under a canopy of trees, or stop on a bridge to admire the turtles in wetlands below your feet. You may even be lucky enough to hitch a ride with a passerby in their golf cart! To view the color-coded Fitness Trails Map in Nocatee, click here (the select 'Fitness Trails Map').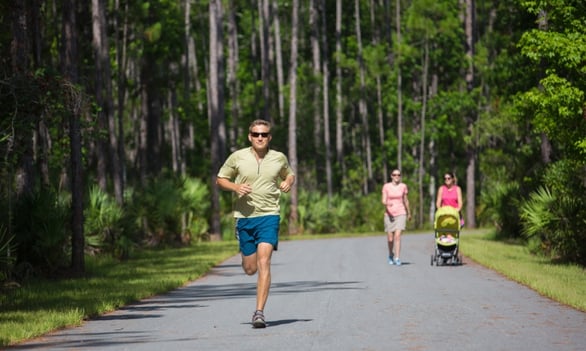 4.)Treaty Park, St. Augustine
Also in St. Johns County, this one-mile loop is an easier trail to practice those sprints or take the family on a light jog. The park's playground and athletic facility share the love with furry friends, so make sure to bring Fido to keep the pace (and maybe play some frisbee as a treat).
5.) Northbank Jacksonville Riverwalk, Downtown Jacksonville
Looking for more of an urban setting? The Jacksonville Northbank Riverwalk along the St. Johns River is a 5K starting and ending at Coastline Drive's Hyatt Hotel. Park at the Jacksonville Landing and hustle along Florida's longest river, which flows through the city. This run can start or end at Jacksonville Landing, where locals and visitors shop, dine and go for entertainment. The Riverwalk runs along some of Jacksonville's largest businesses and is less than two miles from EverBank Field.
A few 'trailing' tips
If you have a smartphone, apps like MapMyRun and Runkeeper can be a fun way to track the distance, time, and calories spent on your journeys. One last parting tip — always keep your eyes open. You never know what kind of rare heron or turtle you might see (and you don't want to trip).
Where have you ventured on your Florida running journeys? Share in the comments below.
---
To learn more about new homes available in Nocatee, visit nocatee.com, stop by the Nocatee Welcome Center or call 1-800-NOCATEE.