---
According to USA Today, between 2005 and 2010 the number of dog parks in the United States increased by 34 percent – 10 times the rate that the number of overall parks increased!
Americans love their dogs, and never has it been more popular for dog lovers to take their four-legged friends to specially designated dog parks, where pets and their owners can enjoy some off-leash fun and recreation. Fortunately, the Jacksonville/Ponte Vedra area has a number of dog parks that offer a variety of amenities for canine recreation.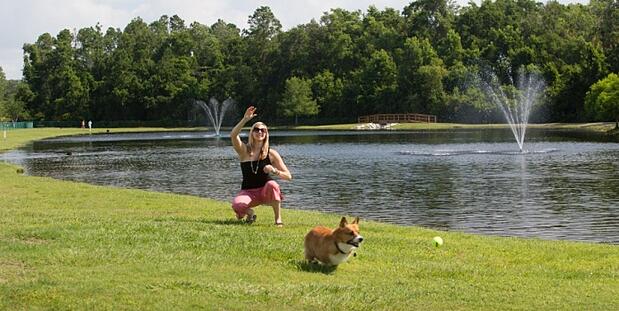 ---
Here are just a few of the popular dog parks found throughout the metro Jacksonville area:
Dog Wood Park
74707 Salisbury Rd.
Jacksonville
Some have compared this 42-acre facility to a "country club for dogs." Others have called it the "Disney of Dog Parks." Located on Jacksonville's Southside, Dog Wood Park offers 25 fenced acres for off-leash play. In addition to providing plenty of room to roam, the facility features dog-swimming ponds, a self-serve bathing area and a retail store as well as obedience and other training classes. All of these activities come at a cost, however: Unlike some free facilities, Dog Wood Park charges $11 per visit for the first dog and $1.25 for each additional dog. Monthly memberships are also available beginning at $35/month.
Tillie K. Fowler Regional Park
700 Roosevelt Blvd.
Jacksonville (Westside)
With more than 500 acres of trails, picnic grounds and other amenities, Tillie K. Fowler Regional Park is Jacksonville's largest city-maintained public park. The facility's dog park offers two areas for off-leash play -- one for large dogs and another for smaller breeds. The park's paths, bicycle trails and observation deck as well as cookout area and playground make for a fun visit for the whole family.
Oceanway Park and Pool
12215 Sago Ave.
Jacksonville (Northside)
Oceanway's public dog park features designated areas for large and small dogs along with a pet water fountain, paths, benches and "human" amenities including a swimming pool, playground equipment, picnic tables, a playground, and tennis and basketball courts.
Confederate Dog Park
956 Hubbard St.
Jacksonville (Downtown/Springfield)
The city's historic Confederate Park officially welcomed canines in 2009, when a designated dog park was added to the park. Open to the public, the three-acre off-leash green space features fencing, benches and pavilions.
Paws Park
468 Penman Road South
Jacksonville Beach
Located in Jacksonville Beach's Wingate Park, this "membership playground" provides off-leash areas for large and small dogs, watering bowls, benches and more. The membership fee is $50 plus tax for the first dog and $25 plus tax for each additional dog.
---
Nocatee D
og Parks
Nocatee residents have access to three free dog parks within the community, including:
Trails for Tails: Located in Nocatee's Community Park, Trails for Tails provides space for pets to socialize amid while their owners can enjoy the park's walking paths and other amenities.
Happy Tails Dog Park: This fenced-in section of Greenleaf Park is open to all Nocatee residents and their dogs.
Paws Dog Park: Located in Nocatee's Davis Park, Paws Dog Park offers two separate fenced areas, as well as a dog wash. Playgrounds and athletic fields are also nearby.
---
Sign up for Nocatee News to get the latest on community events, activities and new amenities.