According to the World Health Organization, by 2050 the world's current urban population will nearly double, with seven out of every 10 people living in an urban area.
As ubran living becomes more popular, the desire for greater access to green space has grown. In particular, the popularity of nature trails has increased -- so much so, that a 2008 study by the National Association of Home Builders found that trails were the #1 most desired amenity that home buyers sought in a new community.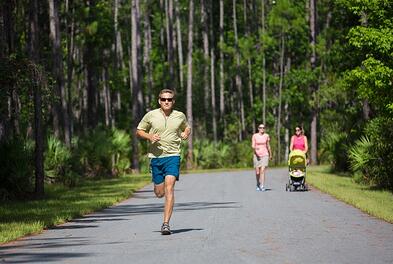 Access to trails and open space are hallmarks of master-planned communities, which have set new standards for incorporating environmental preservation into their development plans. Whereas in the past cities and towns developed in a haphazard fashion -- gobbling up precious open space one piece at a time -- master-planned communities are able to integrate nature into the community instead of encroaching upon it little by little.
A fairly new term coined to describe such careful conservation planning is "green infrastructure," which the Sprawl Watch Clearinghouse defines as "an interconnected network of green space that conserves natural ecosystem values...and provides associated benefits to human populations."
"Protecting and restoring our nation's natural life support system is a necessity, not an amenity," a Sprawl Watch report states. "...The term green infrastructure emphasizes interconnected systems of natural areas and other open spaces that are protected and managed for the ecological benefits they provide to people and the environment."
In addition to trails, green infrastructure elements commonly found in master-planned communities include parks and nature reserves that offer residents recreational opportunities while ensuring that such spaces are preserved for generations to come.
"One of the most distinctive aspects of Nocatee is that 60 percent of the community's land is designated as open space," notes Roger O'Steen, founder of The PARC Group, Nocatee's developer. "Our residents enjoy access to the Nocatee Greenway's 5,000 acres of trails, parks, wildlife corridors and wetland preserves that will be there forever."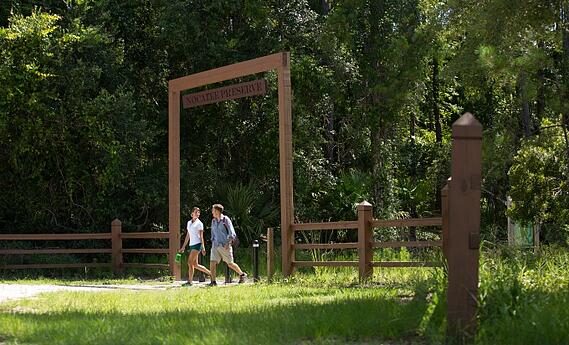 For more information on Nocatee's Greenway Trail system, stop by the Nocatee Welcome Center or call 1-800-Nocatee.