The latest amenity expansion at Nocatee is inspiring the next generation of construction professionals on the First Coast.

The PARC Group, developers of Nocatee, partnered with the Florida First Coast Chapter of the Associated Builders and Contractors (ABC), Northeast Florida Builders Association (NEFBA), and Carlton Construction to host the event. ABC volunteers reached out to area schools with career and technical programs related to construction, and 90 students from nine schools attended.
"The Nocatee Spray Park offers students a truly unique opportunity to witness a wide range of construction work all in one place," said Mo Rudolph, Director of Planning and Development at The PARC Group. "This is a case study in state-of-the-art, complex construction. We're building one structure made entirely of concrete block, one made from timber, and one from steel — not to mention the tallest water slide tower in Northeast Florida."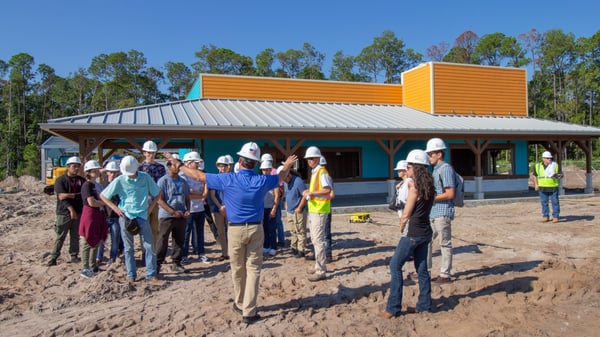 High school students from Duval, Clay, Putnam and St. Johns counties got a behind-the-scenes look at the ongoing development of the new Nocatee Spray Park at one of the nation's best-selling communities.
Students toured various aspects of the active construction site, including the:
Custom-designed band shell and stage
Commercial food service building
20,000-component spray playground
Office and restroom buildings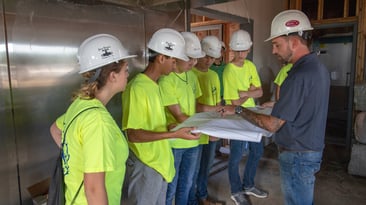 Several contractors working on the job — many of whom graduated from the NEFBA apprenticeship program and local high schools themselves — spoke to students about the career opportunities in the construction industry. They also heard from the construction manager and the project's superintendent.
The Nocatee Spray Park is the first and only of its kind in the region. The four-story, above-ground, interactive spray playground will serve as the centerpiece of the latest major amenity expansion at Nocatee.
The Nocatee Spray Park will be located between the Nocatee Community Park and Nocatee Swim Club, on the eastern side of Crosswater Parkway. It is slated to open within the next few months.
For more information on the amenity expansion and the Nocatee lifestyle, visit www.nocatee.com, stop by the Nocatee Welcome Center or call 1-904-924-6863.