The state of Florida has been in the news lately, as national business publications hail the Sunshine State as one of the best states for both new businesses and job seekers alike.
Chief Executive magazine recently published its 2014 list of the Best and Worst States for Business – and coming in at #2 on the "Best" list was Florida. The magazine praised Florida not only for its supportive business climate, but also for its overall quality of life:
"Texas continues its 10-year historical position as the best state overall," the magazine wrote, "but Florida, which ranks No. 2, is edging up and even overtaking Texas in its quality of living environment." Chief Executive also noted that Florida has become a haven for business start-ups: "Strong population growth tends to yield an inordinate number of new businesses…" the magazine wrote, adding that Florida's resurging housing industry, with new homes under construction, is also fueling the start-up boom.
The magazine concludes that "states such as Texas, Florida and Arizona have a growing economy and reasonable rules and regulations and a positive attitude towards business."
Jacksonville and Jobs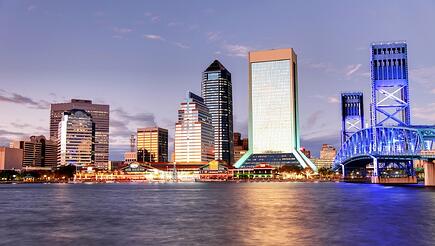 While Florida overall is garnering national attention for its growing economy and positive business climate, the city of Jacksonville has also been earning its fair share of praise. Forbes magazine recently ranked Jacksonville at #4 on its list of Top U.S. cities for finding a job. To compile its rankings, Forbes interviewed hiring managers and employment professionals across the country to identify those cities that not only offer plentiful jobs, but also a good quality of life.
Forbes quoted one such employment expert as saying, "Jacksonville appeals to job seekers, as there are available positions in a number of different sectors. Professional options combined with wonderful weather, a developed park system, beaches and the financial incentives that come with Florida not having an income tax make the area irresistible to those looking for opportunities."
Forbes magazine has also ranked Jacksonville #2 among U.S. cities that are "Winning the Battle for America's Biggest Growth Sector, noting that between 2001 and 2012, Jacksonville's employment growth skyrocketed by more than 50 percent. What's more, in 2012, the average Jacksonville salary was $72,913, making the area a popular destination for workers looking to relocate to a metropolitan area featuring good jobs along with a good quality of life and a plentiful supply of affordable new homes.
To learn about new homes for sale in Nocatee, visit the Nocatee Welcome Center or call 1-800-NOCATEE.