In 1957, Disneyland debuted its newest attraction: the "Monsanto House of the Future." Constructed and furnished almost entirely of plastic, the space-age dwelling featured such futuristic amenities as push-button speakerphones, vinyl flooring and a culinary marvel known as a "microwave."
Nearly 60 years later, many of the House of the Future's features have become commonplace in American homes. And our love of high-tech gadgets for the home continues to grow: In a recent Better Homes & Gardens Real Estate survey, 66 percent of luxury home buyers said that having a "smart home" was more important to them than having an environmentally friendly home. What's more, 87 percent of luxury home buyers said they wouldn't even consider purchasing a home that wasn't tech-friendly.
---
The Home of the Future - Today
Fortunately, today's home buyers don't have to wait until the 22nd century to enjoy some of the high-tech features envisioned in the House of the Future. Many of today's master-planned communities work with builders who are already incorporating high-tech, "smart home" features.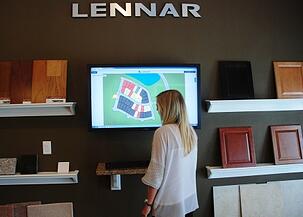 Several Nocatee neighborhoods, meanwhile, feature homes by Lennar, which offers home buyers a Nexia home automation system. "By fully integrating this technology into their home, residents can remotely control locks, lighting, adjust the thermostat as well as view a live video feed from an indoor wireless camera from a smartphone, tablet or computer," the company said in announcing their new homesin Nocatee's Lakeside at Town Center neighborhood.
Still to Come
But just as Disneyland offered 1950s families a sneak peek at the home of the future, today's builders are already looking ahead to even more futuristic home-building advances. Futuretechnologyportal.com predicts tomorrow's homes will soon feature:
Robots: They may not wear an apron like The Jetsons' robot-maid Rosie, but home robots in the future will be several steps above today's rather limited Roomba-type machines, futurists predict.
High-tech bathrooms: Catching up with Japan and Europe, American bathrooms may soon feature high-tech toilet/bidets with built-in dryers, heated seats and a feature that may prevent many a household argument: seats that automatically raise and lower!
Facial recognition software: Home security systems may one day be able to identify residents and thereby detect intruders.
Automated appliances: Remote-controlled appliances may soon allow homeowners to start breakfast the night before and dinner while still at work.
---
To learn more about current smart-home features available from Nocatee's builders, visit the Nocatee Welcome Center or call 1-800-NOCATEE.