---
It's a phrase that virtually all children have uttered at one time or another, especially during school vacation week: "I'm bored!"
Despite Mom and Dad's best efforts to keep the kids amused, it seems that, children today spend more time than ever indoors. The White House's Let's Move! initiative, in fact, reports that kids between the ages of 8 and 18 spend an average of 7.5 hours a day using entertainment media, including television, video games, computers, cell phones, iPods and other electronic devices.
At the same time, the Centers for Disease Control reports that 17 percent of all children between the ages of 2 and 19 are now obese -- nearly triple the rate in 1980 -- and both parents and physicians are understandably concerned about helping kids become more physically active and socially engaged with their peers.
Active Communities, Active Kids
Fortunately, today's master-planned communities (MPCs) incorporate numerous ways for kids to stay physically active and socially connected. Because MPCs are planned from the beginning, these communities typically offer a wide range of recreational amenities that encourage physical activity, including pools, athletic courts, nature trails and fitness centers. What's more, many master-planned communities often offer organized sports activities and social programs for resident children.
Val Vista Lakes in Glendale, Arizona, for example, holds a tennis junior open tournament at its on-site tennis club. The community association of Brambleton in Loudoun County, Virginia, meanwhile, has organized kids' triathlons to benefit the Special Olympics. And kids can explore nature in the children's garden at Cinco Ranch in Katy, TX.
Shelby Skelton, community events specialist at Nocatee in Ponte Vedra, Fla., notes the community's Splash Water Park -- featuring pools, interactive water-playgrounds, a lazy river, two giant water slides and a zipline -- is particularly popular with local children. The community's numerous parks, hiking trails and bicycle paths also encourage Nocatee youth to stay active.
"We're always adding new recreational offerings that appeal to kids and adults alike," Skelton says. "Plans are already under way to open a slew of new amenities in the coming year, including a new junior Olympic swimming pool, basketball courts, an expansion of the water park and a kayak launch that will enable kids and families to explore the nearby Intracoastal Waterway."
Staying Social
To complement its recreational offerings, Nocatee offers a number of social activities geared toward kids. In addition to regularly scheduled craft days, Nocatee holds monthly family movie nights as well as parties and themed gatherings for the community's teens.
"Residents tell us that what they love most about Nocatee is the lifestyle," Skelton says, "and recreation and community events are a big part of that lifestyle."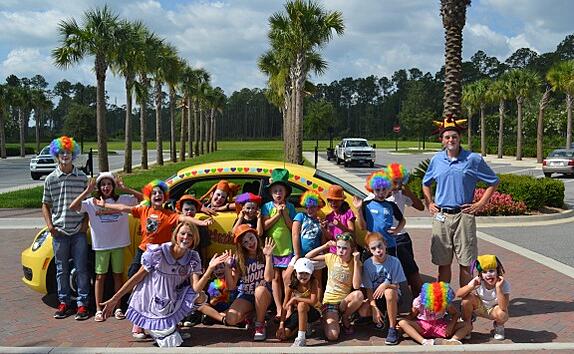 For more information on Nocatee's youth offerings and activities, visit the Nocatee Welcome Center or call 1-800-NOCATEE.
---