It's the #1 axiom of real estate: The three most important factors in choosing a new home are location, location and location. The most beautiful home in the world will be a tough sell if it's located in a blighted neighborhood, or next door to undesirable businesses.
So important, in fact, is a home's location that home buyers today place as much emphasis on where their new home will be located as they do on the specific home they select. According to the National Association of Realtors' recently announced 2013 Community Preference Survey, 78 percent of respondents said the neighborhood is more important to them than the size of the home they purchase. In addition, 60 percent favor a neighborhood with a mixture of homes, stores and businesses within walking distance.
Close to Everything: That's good news for residents of master-planned communities, which are typically located in close proximity to many of the key factors home buyers look for in a location for their new home, including:
Good Schools: Top-rated public schools attract families concerned about education who are actively seeking a home in a highly ranked school district.
Stable Neighborhoods: New home communities provide a sense of neighborhood stability rarely found in older, established cities and towns, where zoning rules and regulations are subject to change. Master-planned communities also tend to be fairly new and well maintained, decreasing the likelihood that a run-down neighborhood will drag down property values.
Shopping: Unlike typical "bedroom community" subdivisions, master-planned communities incorporate commercial town centers featuring a variety of neighborhood shops and services.
Recreation: Because master-planned communities are carefully sited from the start, they're often strategically located near lakes, rivers, mountains or the ocean, offering easy access to outdoor recreation.
Employment: Master-planned communities may be found within commuting distance of major metropolitan areas, providing employment as well as access to arts, culture and other cosmopolitan amenities.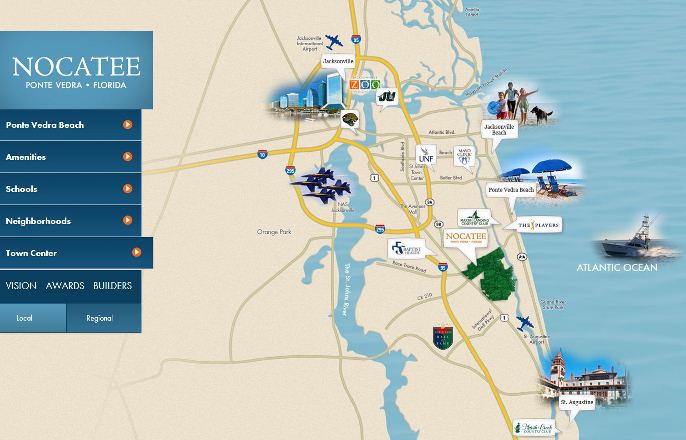 Because of these factors, homes in master-planned communities tend to maintain or increase their value over time – important factors should a homeowner need to relocate or decide to move in the future.
As this article on real estate value states, "If you choose a home in a desirable location, odds are that location will remain in favor, which will always attract a larger pool of home buyers."
To learn more about our location, visit the Nocatee Welcome Center or call 1-800-NOCATEE.
---