---
A recent study by the National Association of Homebuilders revealed more and more millennial homebuyers are making energy efficiency a priority. The study states 84 percent of these young buyers are willing to pay up to 3 percent more for an energy-efficient home, as long as they see a return on their investment via reduced power bills.
No matter your age or demographic, saving energy at home is always a good idea. And a new construction home is the perfect canvas to implement several of the energy-saving technologies and features available for homes today.

---
The areas of your home that can be optimized for efficiency start at ground floor and work all the way up. Here's a hot list of FIVE ways you can improve energy efficiency in your new home:
1.) Tight construction - the building envelope of your home (floors, wall, roof) is a major source of wasted energy if it isn't sealed and insulated properly. Ask your builder or Realtor whether your home was built using tight construction methods. There are several techniques that can keep energy from escaping through holes between walls and other areas, and even help prevent pollutants from entering your home.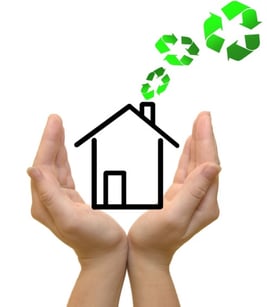 2.) Home automation system - today's home automation systems may seem a little Big Brother or George Jetson to some. However, they empower modern homeowners to adjust their thermostats, lighting, security and other home electronics from thousands of miles away. But is this tech really worth it? According to My Home Security, a home automation system can save homeowners up to $1,352 each year in combined energy savings and insurance discounts.
3.) Cool roof - a cool roof is one that reflects more of the sun's rays than one made with typical materials, saving homeowners an average of between 7 and 15 percent in cooling costs. Traditionally made of white and light colors, cool roofs are now also available in darker colors, so homebuyers no longer have to choose between aesthetics and efficiency. Some cities, states and other institutions even provide rebates and other incentives for cool roof technology.
4.) Exterior color(s) - you may think the exterior color of a home is all about personal preference. For the savvy homebuyer, it's also a factor in overall energy efficiency. For warmer climates, light-colored homes reflect more of the sun's heat than darker colors. In colder climates, where the heat is always welcome, darker colors can help a home retain its heat. Specialty paints that reflect more of the sun's heat are also available in a wide range of colors.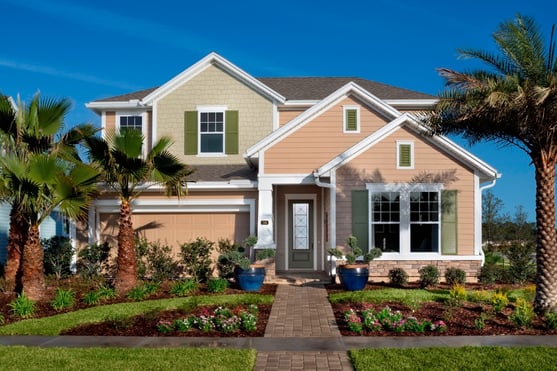 5.) Energy Star certification
You've no doubt seen the Energy Star label on everything from lightbulbs to home appliances. But did you know you can get your whole home certified? You can work with your builder early on to help ensure your home will be ENERGY STAR certified—a process that requires third-party validation and ensures some of the best energy-saving products, materials and practices went into building your new home.
Providence Homes is a 100% ENERGY STAR® Certified Home Builder and one of many Nocatee builders that incorporate the latest in energy-efficient home-building techniques.
If getting the entire home certified isn't realistic for you and your budget, be sure to look for the little blue star in the following areas:
HVAC unit - an Energy Star-certified one can save up to 15 percent in energy costs compared to other models.
Refrigerator - certified refrigerators are about 10 percent more efficient than models that meet the federal minimum energy efficiency standard.
Windows - Energy Star-certified windows can save homeowners up to 31 percent on utility costs.
Implementing energy-saving features often requires slightly higher upfront costs. Be sure to speak with your homebuilder for ways to balance efficiency and budget.
---
To learn more about new homes available in Nocatee, visit nocatee.com or stop by the Nocatee Welcome Center.