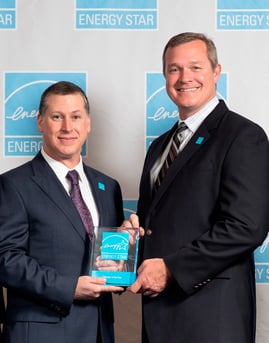 On April 20th, 2018, Providence Homes was recognized in Washington D.C as a 2018 ENERGY STAR Partner of the Year- Sustained Excellence Award winner by The U.S. Environmental Protection Agency (EPA).
The prestigious award recognizes the company's outstanding efforts to bring energy efficiency to the forefront of home-building. This marks the 4th year in a row the popular Nocatee home-builder received the Partner of the Year honor. Winners of the 2018 Partner of The Year - Sustained Excellence Award varied by sector and business size, but all represented continued leadership in the production of energy-efficient products, services, new homes, and buildings.
"We remain committed to being the only local builder in Northeast Florida to have 100% of our homes ENERGY STAR® Certified," said Sean Junker, President of Providence Homes (pictured on the right). "We believe in building well designed homes that are not only more energy efficient, but healthier for your family."
Since 2009, Providence Homes has exclusively built ENERGY STAR® certified homes, some of the most energy-efficient in the Florida market. Right now, Providence Homes is actively selling in The Outlook at Twenty Mile and several new Crosswater at Nocatee neighborhoods. To learn more, stop by one of their three Nocatee model-homes or contact Providence directly today (click 'Contact Builder' button).
The Providence Homes ENERGY STAR partnership has saved Jacksonville families millions on energy bills. In 2017 alone, Providence Homes built more than 170 ENERGY STAR certified homes, for a total of more than 1,200 since joining the program, and a projected median annual energy savings of more than $700 per home.
"The 2018 ENERGY STAR® Partners of the Year have demonstrated real leadership, showing how American families and businesses can save energy, save money, and reduce air emissions," said EPA Assistant Administrator for Air and Radiation, Bill Wehrum.
---
To learn more about new homes available at the master-planned Nocatee community, explore Nocatee.com, stop by the Nocatee Welcome Center, or call 904-924-6863.