Nocatee families celebrated the upcoming Easter holiday with the Nocatee Easter Egg Hunt on Sunday, April 13th. The annual community event drew adults and children alike from all over Nocatee to Splash Water Park, where the day's family-oriented festivities took place.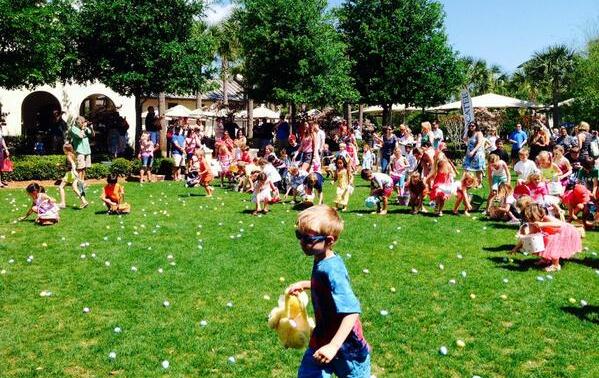 Over five hundred Nocatee residents and residents' guests participated in this annual spring-time event. The day of family-friendly fun included visits from the Easter Bunny, face painting, "Pin the tail on the Bunny" game, and of course, the egg hunt! The egg hunt was divided into five different hunt times, ensuring all ages of children had the chance to participate and collect the most amount of eggs possible. And the kids had an "eggsellent time" searching for the brightly decorated Easter eggs hidden all around the Splash Water Park event lawn. A professional DJ kept had residents up on their feet dancing, and played familiar tunes that everyone could enjoy. To continue with the Easter-theme, residents could take a break from the sunny-skies and socializing by catching a special showing of Hop that played throughout the day.
Only community-driven Nocatee can bring families together in their own backyard for exciting resident events for all ages. The Splash Water Park event lawn is indeed the perfect space for many outdoor gatherings and celebrations. Right next to the event lawn, residents enjoy the full menu of food and beverages by Lil' Fox Pizzeria, Splash Water Park's official food vendor. With perfect weather here in Northeast Florida during this time of year, Resident Services hosts many of community's events and activities outside in the picturesque Splash Water Park. From brand-new clubs and activities to annual events, there is always something for families to do at Nocatee.
For more information on the Nocatee community, stop by the Nocatee Welcome Center or call 1-800-NOCATEE.
v