Rain (it's Florida) or shine, Nocatee residents will commemorate the first swim of 2015 at the sixth annual Nocatee Polar Plunge this Saturday (January 24th) at Splash Water Park. Embracing the chilly January weather, Nocatee's bravest will gather at 8:00 a.m. to take a group plunge and carry on the icy Nocatee tradition.
---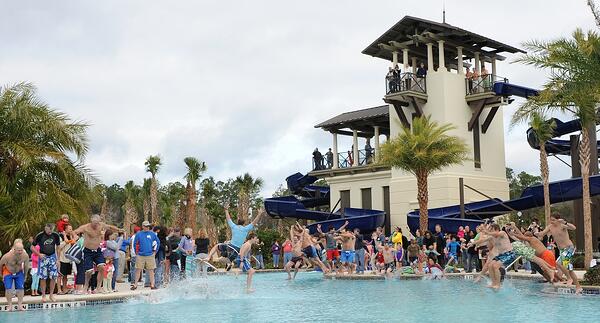 ---
Event attendees can expect a morning full of Polar-Plunge themed festivities, including complimentary hot chocolate and coffee, food from The Little Family Crepes truck (available for purchase), contests, a professional DJ, a lively-atmosphere, and more. Group activities will include a plunge countdown, a group swim, and a Best Dressed/Costume Contest. Residents are encouraged to come suited up in their finest cold-weather swim apparel – whether it's polar bear swim trunks or funky floaties. The community panel will recognize and award the most unique looks… there's been some interesting ones in the event's history!
Whether a spectator or a plunger, you do not want to miss out on this endeavor. Bust out the swim trunks, grab a towel… it's time to plunge! The Splash Family Lagoon Pool and Rip Tide Slide (featuring North Florida's highest water-slide tower) will all be open for residents and their guests.
---
To learn more about Nocatee and the Nocatee lifestyle, stop by the Nocatee Welcome Center or call 1-800-NOCATEE.