Of course buying a home for the first time is intimidating—it's one of the largest purchases you'll make in your lifetime. Lessen the fear factor by following these tips during your search for the perfect first home: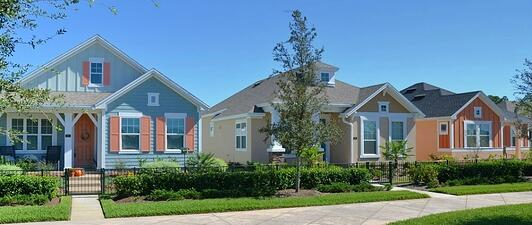 Determine if owning makes more sense than renting for you. If you crunch the numbers and find that even with costs that go beyond the mortgage payment—like insurance and homeowners' association fees—you can comfortably afford a home, you're ready. Be sure to ask yourself why now is the right time for you to buy your first home. If the reasons and the numbers align, you'll feel much better about your decision.
Shop around. This goes for everything from location to home style and beyond. A well-informed buyer is an empowered buyer. Explore your options in the following categories:
Homes - love at first sight is possible. But it's still a good idea to see what else is out there in your price range by shopping comparables in the area. You may be thankful you didn't commit to the first home you originally fell for.
Lenders - rates can vary pretty significantly between lenders, based on your credit score, the loan type and other factors. Use a mortgage rate calculator to find lenders with the best rates in your area, and be sure to hit up your local bank and a credit union. When applying with multiple lenders, try doing it all within 14 days so that you don't have too many inquiries, which can have a negative impact on your credit score. According to Credit.com, there's a 14-day window where inquiries are reasonably assumed to be from an auto loan or mortgage application and are treated as one inquiry in FICO's scoring models.
Assistance/incentives - from VA Loans that require no down payment to first-time homebuyer programs, you never know what you'll qualify for if you don't do a little homework. There are programs available at the state, federal and local levels, so they will vary depending on where you live.
Find a good real estate agent. There are a lot of nuances that go into buying a home, and an experienced real estate agent can help you navigate through the home shopping and buying processes. Partnering with one who is familiar with the local market can help you better manage expectations, get a sense of comparables in the area, and housing market trends.
Don't be afraid to discuss. Because there's a fine line between bartering and offending a seller, be sure to negotiate with tact. Have your lowest number in mind and get as close to it as you can. But if the house is "the one," don't let the seller walk away over a few thousand dollars.
Whether it's a townhome, condo or single-family home, buying your first place is something that can be rewarding for years to come. Being prepared and informed will help the whole process feel more exciting than intimidating.
---
For information on affordable new homes available in Nocatee, visit the Nocatee Welcome Center or call 1-800-NOCATEE.