When it comes to master-planned communities, prospective home buyers have a wide range of options from which to choose. And one of the first choices buyers may consider is whether to purchase a home in a gated community.
Once available only to the very wealthy, gated communities are becoming more common across the United States. According to the U.S. Census Bureau's American Housing Survey, the number of U.S. households living in gated communities increased from 7 million in 2001 to 11 million in 2009. And as the numbers rise, so do the variety of options: From condominium complexes and senior communities to luxury estates, there's now a gated community to suit virtually every buyer and budget.
What's behind the growing popularity of gated communities? Residents of such developments say they appreciate their:
Security
: Often surrounded by raised fences or walls and staffed with security guards, gated communities are popular with buyers seeking an increased sense of safety for themselves and their families. While some studies have questioned whether gated communities are actually safer than non-gated neighborhoods, a
study by
Justice Quarterly
found that incidents of crime such as burglary were indeed reduced in gated communities.
Serenity: Because cars have to slow down in order to pass through the entrance, gated communities tend to have fewer speeding problems. They also have less traffic, as non-residents are unable to use neighborhood streets as a cut-through to the nearest major highway.
Amenities
: A gated entrance ensures that community amenities such as pools, clubhouses, fitness centers and athletic courts are used only by neighborhood residents and their guests. For example, residents of the Nocatee gated communities of Del Webb Ponte Vedra and Coastal Oaks have access to their own clubhouses, pools and other amenit
ies while also enjoying full access to the Splash Water Park and other Nocatee amenities.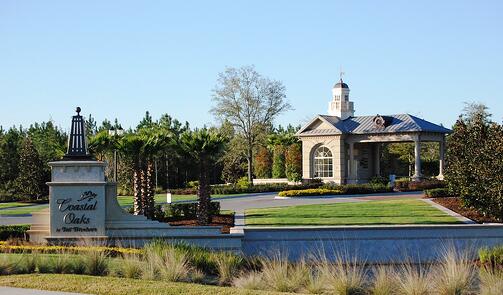 Of course, a gated community may not be right for everyone. Some home buyers may consider having to pass through a gate upon entering and exiting a community to be an annoyance. Others may prefer a more open feel to their new neighborhood.
"The great thing about master-planned communities is they feature so many different options," says PARC Group President Richard Ray, who notes that eight of Nocatee's existing neighborhoods are not gated. "Ultimately, it really just comes down to the personal preference of the homeowner."
For more information on Nocatee's neighborhoods, visit the Nocatee Welcome Center or call 1-800-NOCATEE.