---
NTC Office, LLC, a venture of Silverfield Group and Morales Group, is pleased to announce their second project in Nocatee. The project, which has yet to be named, is planned for four buildings totaling approximately 32,000 square feet.
Construction will begin this spring with the first building slated to be completed by December 2018.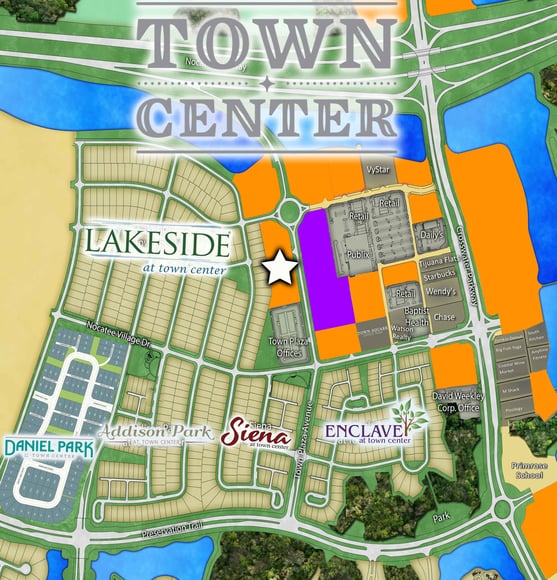 "We are excited to kick off our second professional office project in Nocatee," said Karl Hanson of Silverfield Group. "After bringing Town Plaza Offices at Nocatee to life, we saw firsthand how residents embraced new service providers opening in the community."
For more information on business and office opportunities at Town Plaza Offices at Nocatee, click HERE.
The new project will be geared towards medical practices, attorneys, accountants, financial advisors, insurance agents and other office businesses, but will not include any retail stores. The lease-only offices will be designed and built to suit the tenants' needs.
Additionally, the new office space offers even more residents the chance to have an office close to home. Karl Hanson of Silverfield Group added, "Our goal is to continue to serve the needs of neighborhood services and office space for Nocatee residents in a first-class professional office park that will also be attractive to motorists entering Nocatee's Town Center area from the Nocatee Parkway."
The variety of eateries and shops in the pedestrian- and EV-friendly Nocatee Town Center is also rapidly expanding. Artsy Abode, Bicycles Etc., Gwen Berlin, GNC Health Store, Ponte Vedra Golf Carts, and Orangtheory Fitness all recently celebrated grand-openings. Restaurants Jersey Mike's Subs, Timoti's Seafood Shak, Treylor Park, and South Kitchen are scheduled to open in 2018.
---
To learn more about new homes at Nocatee, explore Nocatee.com, call 1-800-NOCATEE or stop by the Nocatee Welcome Center.