As millions of Americans prepare to gather with loved ones to mark the Christmas holiday, it's hard not to notice that for many, such communal gatherings have become increasingly rare.
---
In 2000, the publication of Robert Putnam's Bowling Alone focused national attention on this decline in "social capital." As Americans began living in sprawling suburbs and commuting longer distances to work, Putnam noted, the social fabric that connected us to one another became frayed, resulting in a:
58% decline in attending club meetings
43% drop in eating dinner together as a family
35% drop in having friends over
Building community
But the trend may be reversing. Today, many master-planned communities have been hailed for offering that sense of community that many new home buyers crave. In the foreword to the New Urbanism Best Practices Guide, in fact, noted architectural historian Vincent Scully writes:
"Americans today seem to feel that a sense of community is exactly what needs to be revived in this country, and many apparently want exactly that for their families. It is therefore no great wonder that they are choosing to live in the kind of integrated architectural groupings that are suggestive of the towns in which they grew up, or about which they have always dreamed."
By integrating public spaces such as parks and recreational facilities within well-planned neighborhoods, new home communities create more opportunities for social interaction than the sprawling bedroom communities of the mid-20th century. Meanwhile, master-planned community amenities centers provide a convenient meeting place for neighborhood clubs, volunteer groups, fitness classes and other resident events and activities.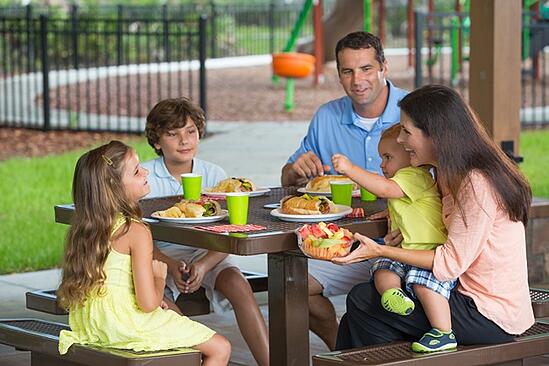 For more information on Nocatee's resident clubs and interest groups, fitness classes and other community events, visit the Nocatee Welcome Center or call 1-800-NOCATEE.