---
Part of the fun of buying a new construction home is making it your own through upgrades. However, this fun can add up fast if you don't stick to a budget and carefully consider your options.
When thinking of where to splurge and where to save in selecting upgrades, don't stop at your current needs. For example, if you have small children, you'll want ample open areas to keep an eye on them while multitasking. But consider what you'd like to do with that space once they're grown and gone as well before committing to a more open floor plan.
---
Other upgrades you may consider include:
Cabinets - Extended cabinets eliminate extra spaces where dust can accumulate while making the room look taller than it is. If you enjoy entertaining this may be worth the extra expense, as your kitchen is the most high-traffic area of your home when entertaining.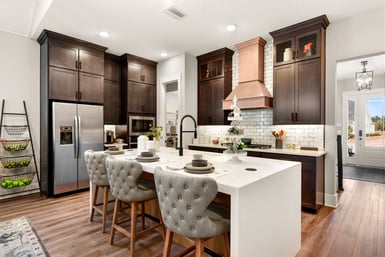 Ceiling fans - These may not be the most glamorous upgrade, but they can add up to a significant reduction in your energy costs over the years.
Countertops - A caveat about countertops: be sure to choose materials that are timeless and not too trendy. They can make your home feel outdated in only a few years.
Wood flooring - Wood flooring has been one item that has stayed popular throughout the years, with no signs of slowing down.
Separate bath and shower - Not only does having a separate bath and shower give a spa-like feel homeowners and buyers are looking for, it's also a great feature to consider when you plan on staying in your home through retirement, allowing easy accessibility as you age.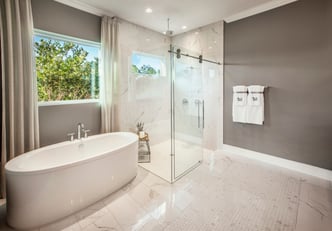 Built-in furniture - From buffets to bookcases, built-ins give a custom look that can't be beat. Keep in mind, you'll have some limitations in rearranging furniture once these built-ins are installed.
Gas lines - You may want to go ahead and include exterior gas lines for an outdoor grill that you can install later. By getting the "in-wall" work done prior to completion, you'll save money in the long run.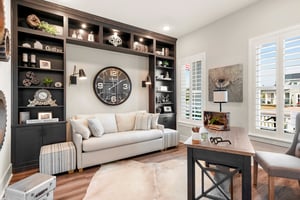 Electrical outlets - There's nothing exciting about electricity, but having additional outlets that include USB ports can help eliminate clutter and could be worth the upgrade.
Convertible spaces - Think about a study that could be converted into a bedroom, or an attached garage that could eventually be closed in for a man cave.
Upgrade packages - In most cases, bundled upgrades provide buyers with more bang for their buck. Of course every builder is different. Be sure to work with your individual builder to determine the best upgrade package for your needs.
---
The Welcome Center is currently not accepting walk-in visitors. For more information about the Nocatee lifestyle, a virtual presentation can be scheduled HERE. To speak with a Welcome Center Representative for additional information about neighborhoods, amenities, or master-plan, please call (904) 924-6863.