As another school year draws to a close, numerous families across the country are preparing to move. Some may be moving across town; others may be moving across the country or even to another country. But whatever their destination, these families share the unique challenges presented by making a move with children.
From toddlers to teenagers, even the most affable child may feel apprehensive at the thought of moving. Here are a few tips to help make each stage of the moving process as painless as possible for the younger members of your family:
Before the Move
Call a family meeting: Moving is a major disruption to children, who tend to crave consistency. Once you've decided to move, bring the family together and explain what's about to happen and when. Depending on the age of your children, provide them with as much information as you feel will help put their minds at ease. Emphasizing the fun, exciting aspects of this "great adventure" will help kids view the situation in a more positive light.
Involve them in the move: Help make the kids feel that this is their move – and not your move – by involving them in the process. The internet makes it easy for kids to help Mom and Dad search for houses and check out new neighborhoods. Once a new home is selected, show them which bedroom will be theirs and consider letting them choose its decor, if that's feasible. This would also be a good time to help school-aged children find the website for their new school so they can prepare themselves for that important transition.
Plan to purge: Before you begin packing, have the kids go through their belongings and set aside any games, toys, clothes and other possessions that they've outgrown. Depending upon the condition of the items, some may be in good enough shape to donate to charity. If so, let the kids help you deliver the items so they can see how others are benefitting from their generosity.
Time the move: If possible, try to time the move so as to minimize the disruption to your children's normal schedule. (That's why so many families move over the summer; it allows children to settle into their new neighborhood and makes some friends before starting the school year at a new school.) Of course, not all families have the luxury of arranging their move around the children's schedules. In those cases, explain to older children why the move is happening at this time and reassure them that you'll help them get settled in their new home.
Help them say goodbye: Leaving friends and family behind is hard for children; help them say goodbye to those they'll miss by hosting a "Bon Voyage" party. Another option: Put together a "Memory Scrapbook" with photos and mementos from your former home. Have it on hand at the party so guests can contribute their own photos and memories.
During the Move
Pack last: Pack your children's rooms last so that they can feel settled up until it's time for the move to occur. Be sure to leave treasured toys and games that must be packed until last – and keep the most popular ones on hand to occupy their attention during the move itself.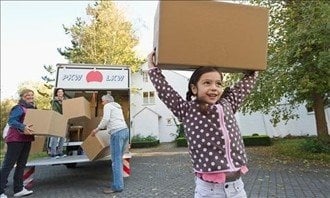 Label clearly: Keep all of the kids' items together in separate boxes and mark them clearly with each child's names. (This will prevent the kids from rummaging through all the boxes to find their possessions when you arrive at your new home.)
Hire some helping hands: If your family includes young children, consider hiring a sitter to watch them during the actual move process. Knowing that the kids are being cared for during the move chaos will allow you to focus fully on the task at hand.
Stay cool: Once the refrigerator is emptied and on the truck, you can be sure someone's going to want a snack! Stock a cooler with cold drinks and snacks before the movers arrive so the kids can help themselves throughout the day.
Keep them amused: In addition to snacks and drinks, pack some favorite toys and games for the journey to your new home. Have a toddler or preschooler who's recently been toilet trained? Consider using pull-ups to allay any fears of accidents resulting from infrequent bathroom breaks or "move jitters."
After the Move
Unpack the kids first: Setting up and unpacking the children's rooms first will give the kids a place to hang out and play while the rest of the unpacking occurs.
Explore: Once the move itself is but a memory, help the kids get acclimated to their new home. Take a walk around the neighborhood. Drive by the new school. Or consider "playing tourist," and visit the area's popular sites and attractions.
For information on new homes available in Nocatee, visit the Nocatee Welcome Center or call 1-800-NOCATEE.