---
If there's one holiday that master-planned communities (MPCs) do better than others, it's Halloween. As a small community of its own, a MPC is the prime setup for filling up trick-or-treat bags and enjoying festivities with neighbors.
Here are 4 major ways MPCs do Halloween in style:
1. Optimized trick-or-treating (every child's dream)
With so many neighborhoods in MPCs, there are a lot of houses to visit in walkable proximity via sidewalk. You got it, kids — that means more candy per square mile.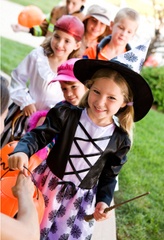 And for the ones accommodating the little candy solicitors, MPCs have local businesses and grocery stores right around the corner for any last-minute costume fixes or candy bowl refills.
2. They can keep the heels and take the wheels
A great (and tiring) thing about Halloween is the opportunity to parade around the neighborhood, but sometimes at a cost to costumed feet. Fortunately, MPC residents with electric vehicles (EVs) like golf carts don't have to worry about forgoing fun and funky heels. With wide EV paths for pedestrians and golf carts to share, the whole family can get around quickly (and easily lug around those ambitious pillowcases of candy). Another fun option for families- safely decking or spooking out the EV (not impairing driving visibility) for the occasion.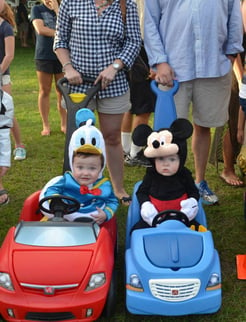 3. Worrywarts can relax
Keeping safe during Halloween is a big concern for most parents, but MPCs make it easy to keep tabs on the kids with built-in safety features such as:
● low-speed-limit residential roads
● maintained landscaping and open areas
● well-lit streets and parking lots
● neighbors who look out for each other
● centrally located gathering places
4. They celebrate with spooktacular festivities all month long
A plethora of planned activities help residents get in the Halloween spirit. Many MPCs have festivals and activities for residents of all ages, like Nocatee's family pumpkin carving event. This event will take place on Sunday, October 20th at the Nocatee Station Field.

You can count on great entertainment, snacks and beverages to make an appearance at MPC Halloween parties. Other activities you may find at a MPC Halloween celebration include:
Parades — Nocatee's annual, family-friendly Halloween Party will feature a costume parade for all ages. Come out and enjoy the fun on Friday, October 25th, and enjoy the opportunity to wear your Halloween costume twice! Resident IDs and guest tickets will be required.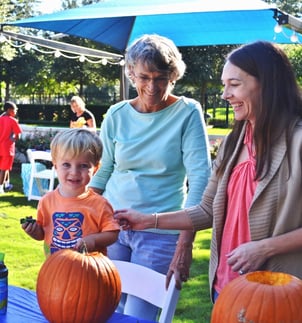 Markets — The Nocatee Farmers Market on October 19th will be "Fall Festival" themed this month. Along with 70 local vendors offering a wide range of goods and services, this market will feature live music from The Aaaron Mansfield Band, a petting zoo, hayrides, and more! Open-to-the-public, check out Nocatee's October 2019 Events Calendar for more information.
MPCs know how to make Halloween about community, safety and family festivities — the perfect potion that even the craftiest of witches would envy.
First Coast Area Fun (Near to Nocatee):
Spooky fun —Don't miss Jacksonville's most enchanting celebration. The Jacksonville Zoo hosts its 2019 Spooktacular- an exciting Halloween Adventure for kids of all ages.
Furry friends — Bring your fangtastic furry friends for an unboolievable costume contest at Ripley's Believe it or Not Museum in St. Augustine. Starting at 11 a.m. there will be a pet parade with judging for the best pet costumes and talent. Admission to the parade is free.
---
To learn more about new homes available in Nocatee, visit nocatee.com, call 1-800-NOCATEE or stop by the Nocatee Welcome Center.