---
There's only a month or so left of summer (from a school perspective). And what better way to make some lasting childhood memories for your kids than a family camping trip?
Florida has several noteworthy destinations for sleeping under the stars and smacking on s'mores. Here are a few that are a short drive away from the First Coast, but are sure to be a big hit with your little campers:
1.) Ichetucknee Springs State Park, Fort White
Located just outside Gainesville, Ichetucknee Springs is a rite of passage for area Floridians. Made up of nine springs that feed the Ichetucknee River, Ichetucknee Springs ensure crystal-clear fun for six miles and beyond.
Don't forget the inner tubes! Well, you can rent them too, but be sure tubing is on the itinerary. Because this place is so popular, it's a good idea to get there early—the park only allows the first 750 people to tube in a day. Call ahead to inquire about the water conditions, as the river will be closed if it's too high or too low due to a lack or overabundance of rain.
2.) Hontoon Island, DeLand
Reachable only by boat or ferry, Hontoon Island is a mere 500 feet or so from civilization, but it feels like so much more. Paddling around the island is a 10-mile trek that is great for making memories and burning off campfire goodies. Bring your own kayaks and canoes, or rent them at Hontoon Island State Park.
When you want a break from the summer sun, there's a tiny museum dedicated to the Native Americans who once roamed this island along the St. Johns River.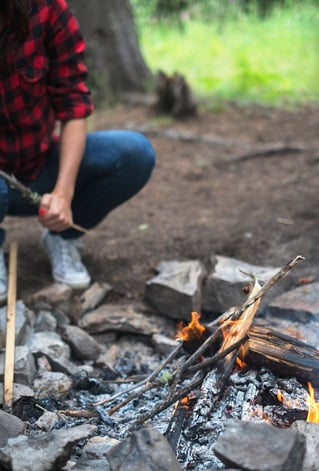 3.) Anastasia State Park, St. Augustine
A great camping destination is practically in our backyard. Located just on the other side of the Matanzas Bay in St. Augustine, Anastasia State Park provides 1,600 acres where you can play among maritime hammocks and sand dunes that have been around for centuries.
And if you want a break from all the kayaking, hiking, bird watching and splashing, attractions kids crave—from the St. Augustine Alligator Farm to historic Castillo de San Marcos—are only a short drive away.
4.) Sebastian Inlet State Park, Melbourne
Nestled between the Indian River and the Atlantic Ocean, Sebastian Inlet State Park is a barrier island that offers campers a beachfront camping experience, plus so much more. From hiking and kayaking to exploring 755 acres, this destination has something for everyone. Even history buffs will appreciate the McLarty Treasure Museum with loot from the 1715 Spanish fleet. The Sebastian Fishing Museum is sure to be a favorite among fishermen (and women) of all ages.
5.) Fort Clinch State Park, Amelia Island
Make memories while discovering our nation's past at Fort Clinch State Park. The area that boasts 14,000 acres of terrain was once a major player in the Civil War. Birding, cycling, sunbathing and other activities are all available to enjoy. For the more advanced explorers, geo-seeking helps turn your GPS into your tool for a fun and memorable treasure hunt. The entire island is a popular weekend destination for nearby Nocatee residents, ideal for both romantic weekends away and family-friendly trips.
Tips for happier packing (and campers)
Whether you and your family are camping pros or new to it, here are a few hacks to help make your trip a little easier:
Make floats serve double duty - skip the air mattresses and allow your kids to cram their sleeping bags with long floats instead. You'll save room in the car without sacrificing comfort.
Leave the ice at home - instead of packing bulky ice that will take up real estate in the cooler, freeze gallon jugs of fresh drinking water to keep food items cool. You need it anyway for the journey to ensure everyone stays hydrated.
Skip the expensive camp kitchen - instead, opt for an inexpensive over-the-door shoe organizer that you probably already have at home. Use it to store utensils and necessities (but be sure to securely stow away food before you go to bed or leave the campsite to avoid animal invasions).
Dress everyone in water shoes - these versatile shoes can be worn on land and off, helping preserve precious toes from things that could prick or scratch bare or flip-flop-sporting feet.
Replace flashlights with headlamps - these inexpensive lights may make you feel like you're going mining or spelunking, but they provide hands-free illumination that can't be beat.
There are countless ways to take advantage of the great outdoors throughout the area. We hope your journeys to these camping destinations provide lasting memories. Feel free to share some of them in the comments section below.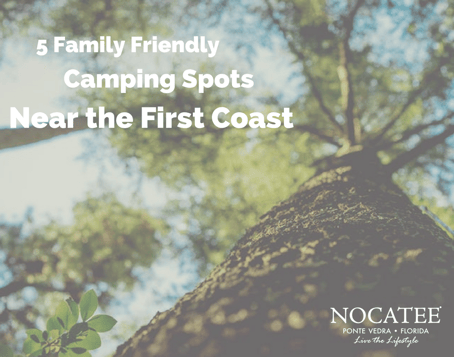 ---
To learn more about new homes available in Nocatee, visit nocatee.com or stop by the Nocatee Welcome Center.